The lead role in Three Billboards Outside Ebbing, Missouri fits Frances McDormand like a glove. The story of a fierce, unconventional woman touched by tragedy in small town America, it's honest and brave, like its star.
McDormand has made a career on stage and on screen of inhabiting the kind of characters that stay with you long after you've left the cinema, from the wife of a bigot in Mississippi Burning to the heavily pregnant Police Chief in the Coen brothers' film Fargo, for which she won an Oscar. Her first lead role was in the Coen brothers' first film, Blood Simple. She married Joel Coen soon after. She has worked widely in TV and cinema but theatre is her first love, and where she feels she has polished her craft.
McDormand grew up in a series of a rural towns as the family moved according to her adoptive father's job as a preacher. Three Billboards, written and directed by Martin McDonagh, is set in one of those towns, Ebbing, Missouri, where Mildred Hayes' life has been shattered by the murder of her daughter, Angela. She is frustrated that the police enquiry has gone nowhere and decides to push the police department into action by paying for three giant billboard messages demanding the Police Chief do more to find the murderer. It's the beginning of a campaign in which Mildred unravels, venting her fury on the police authorities.
Western
In the same way as  McDonagh's previous films In Bruges and Seven Psychopaths put a twist on gangster and crime films, Three Billboards is a classic Western showdown transposed to a modern-day setting and with a female cowboy. Instead of a pistol, her weapons are words — on the three billboards and her sharp tongue. (Oh, and Molotov cocktails.) Frances McDormand says she used John Wayne as her physical model for the role of Mildred. In the place of a cowboy outfit, Mildred wears a worker's blue jumpsuit.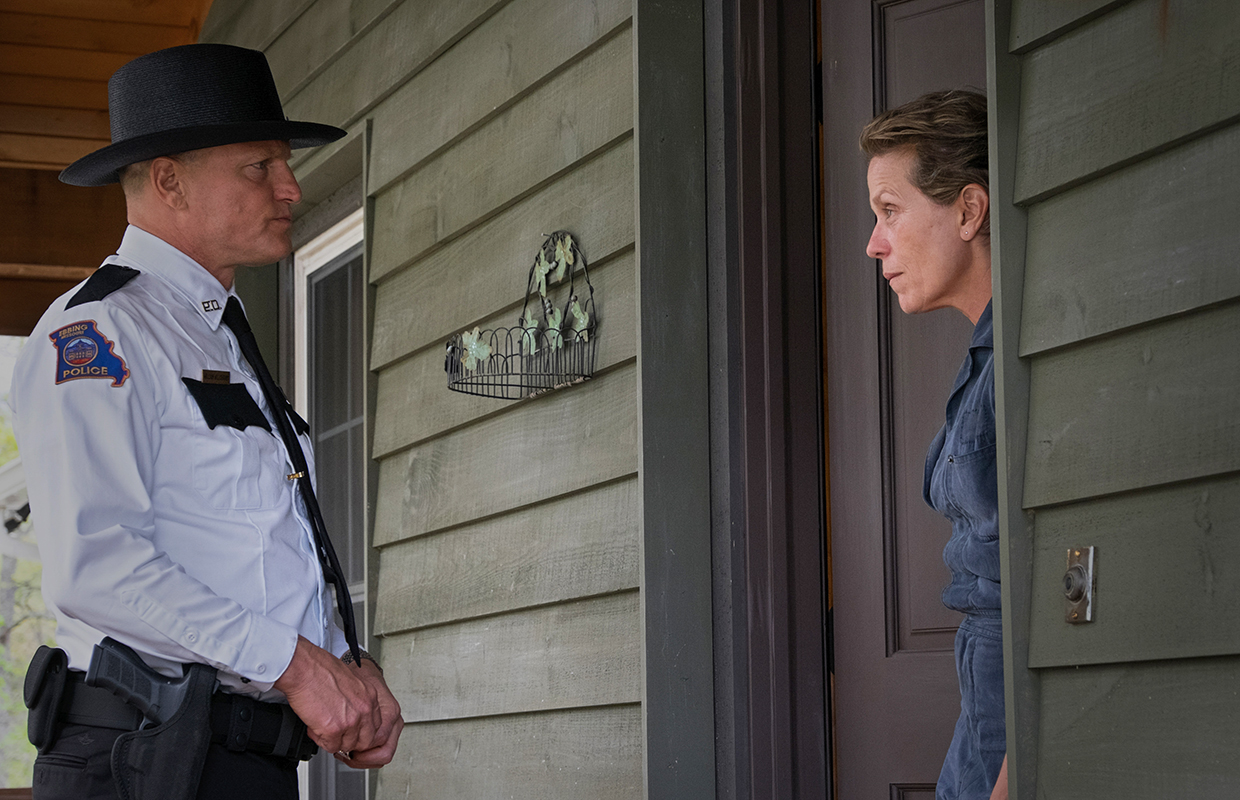 Cowboys in westerns were often ambiguous characters, and McDormand points out, "Mildred is really not a hero. She's a much more complicated person than that. She's been left by grief in a no man's land, in a place of no return. One of the things I latched onto as I was thinking about Mildred is that there is no word in most languages for the position she is in. If you lose a husband, you're a widow; if you lose a parent, you're an orphan. But there is no word for a parent who has lost a child."
The film was awarded four Golden Globes, for best film, best screenplay, best supporting actor for Sam Rockwell as the unlikable police deputy Dixon, and of course McDormand as best actress. Her intense performance is hotly tipped for an Oscar nomination too.
Three Billboards Outside Ebbing, Missouri
On general release
Copyright(s) :
Fox Searchlight
Notion(s) culturelle(s) : "Mythes et héros"