Talking about emotions can be hard when you are a teenager — even more so when the feelings are about love and romance, and you have to talk about it in another language! This video of American teenagers talking about crushes is an excellent conversation starter for A2-A2+ classes. Why not use it for Valentine's Day?
The short video was created for the children's health charity KidsHealth. It is a series of young teenagers talking about what they think of crushes/young love. It's simple and honest and a great example of prise de parole en continu.
Transcript:
Girl 1: Girls and boys are… mystery.
Boy 1: I think crushes are just things, like you find someone that you like and you just like them, you don't really tell them.
Girl 2: I've always had a crush. But it doesn't mean I want to get involved with them.
Boy 2: I think a crush is just kind of like, it's not like you're actually head over heels in love. I think you just kind of, sort of like them, in a way, in a way a little farther than like normal friendship.
Girl 1: It can be stressful, because you like, really, want someone to like you back, but you don't know what they're thinking.
Boy 2: I haven't actually told anybody the name of the person I like. I've told my friends that I do like somebody.
Girl 2: They say they're couples, but I don't really believe them because my mom always tells me, "If they haven't actually gone out on a date for more than an hour alone, they're not actually going out with each other yet."
Boy 2: My friend Jackson, he's always like, "Nolan, who do you like?" And I'm like, "I'm not going to tell you. That's a secret."
Girl 2: I don't think I need boys in my life right now.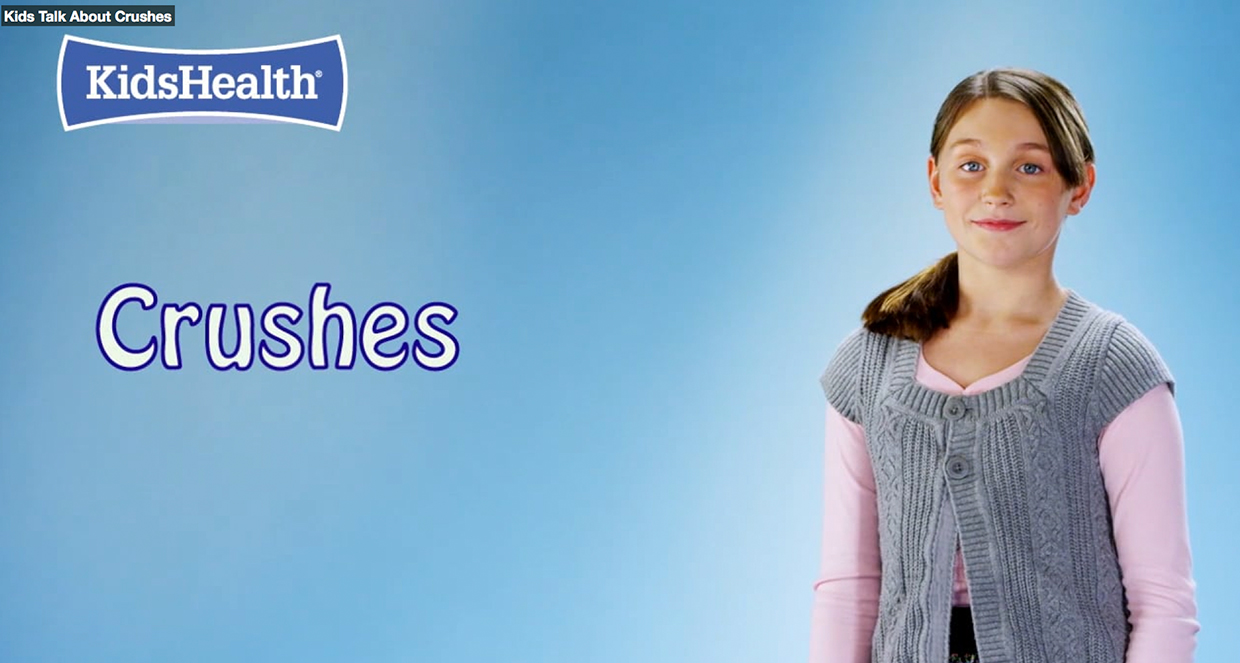 Teaching Suggestions
As well as simple aural comprehension there are lots of possible spin-off activities:
Responding to one of the comments — this will probably happen naturally during oral interaction about the video.
Trying to come up with a definition of what a "crush" is. They should understand that the word applies both to the person you like and the abstract concept "having a crush on".
Guessing what the questions were and doing a video of their own.
They can create a guessing game of friendships (in the classroom, real-life famous couples or fictional characters from a universe they enjoy reading/playing/watching e.g Harry Potter). They can write clues for their classmates to guess the pairs of friends using vocabulary discovered in the video.
The vocabulary can be organised in a "Tree of emotions" when having a crush vs falling in love…
Copyright(s) :
KidsHealth Nemours Foundation