If you find yourself close to Belgium this summer, it's worth heading to Brussels for the Aboriginalités exhibition: more than 250 paintings by First Australian artists who innovate using traditional techniques and subject matter and modern materials.
Art is a very important part of Aboriginal spiritual and cultural life, part of a vast system of oral history and storytelling referred to as the Dreamtime. Traditionally, the art was very close to the land, using natural pigments and painted or scored on rocks, in sand or on prepared tree bark.
Fifty years ago, in 1971, an artists' cooperative called Papunya Tula was created in the central desert near Alice Springs. Assimilationist policies by the Australian government had regrouped First Australians from several different language groups at Papunya. Until this point, First Australian art was considered primitive and in other parts of the country Aboriginal artists were encouraged to adopt Western art techniques.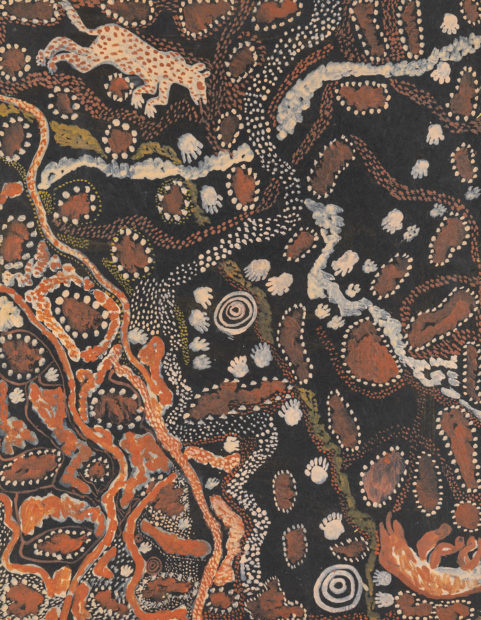 But in 1971, one of the Papunya  Tula artists' works,  Men's Ceremony for the Kangaroo by Kaapa Tjampitjinpa, was joint winner of a prestigious art prize, the Caltex Golden Jubilee Art Award, alongside a European-style painting.
From then on, the Papunya Tula artists developed rules that allowed them to make art for sale without giving away sacred clan secrets. They adopted modern Western materials that were more practical for art that is intended to last, and be transported away from its place of creation. It became an important source of income for communities which had been cut off from their traditional means of subsistence. You can find more on the foundation of Papunya Tula on the National Museum Australia site.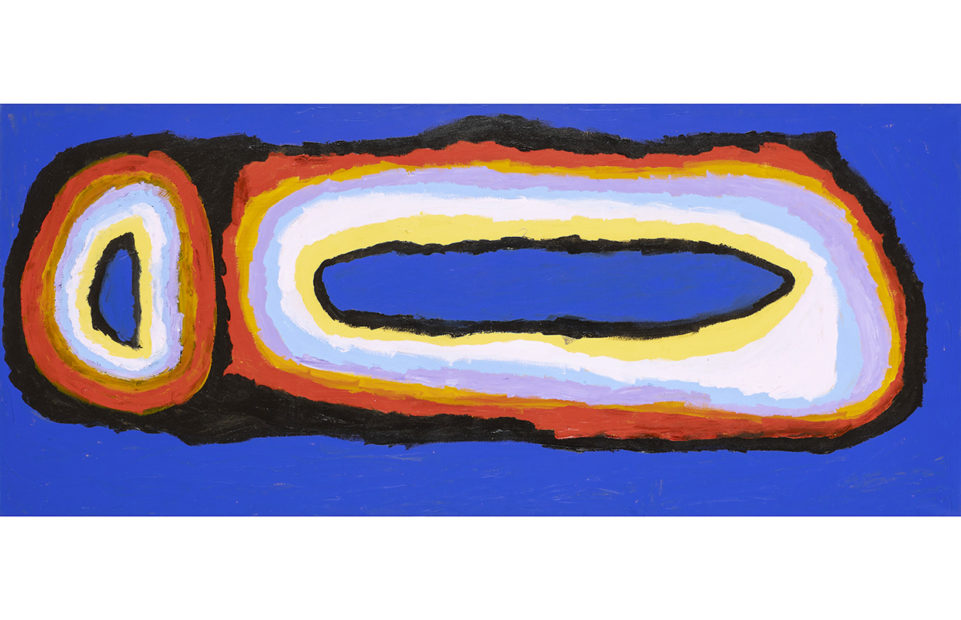 Aboriginalités celebrates this modern First Australian art with works collected over a period of twenty years by Belgian collector Marie Philippson. Traditionally, men and women in First Australian clans are guardians of different traditions and dreams and these come across in their art. Gabriella Possum Nungurrayi's "My Country" at the top of the page for example, depicts an arid desert landscape which nevertheless contains "bush tucker" (food sources) well known to the sitting women represented by the light pink "U" shapes. Whereas Johnny Warangkula Tjupurrula's dingo camp painting depicts a typically male domain, hunting. Sally Gabori's vibrant painting of a marine crocodile ancestor in bright acrylics was created when the artist was 81.
An excellent visitors' guide you can download gives lots of background information about Aboriginal art and the specific artists and works on show.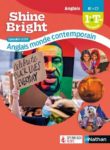 Find out more about Australian Aboriginal art in
Shine Bright AMC
SnapFile 28 Captain Pacific and
Shine Bright 1e
File 12 Peoples of Oceania, and more about Dreamtime in
Speakeasy Files 3e
.
Aboriginalités
Till 1 August 2021
Musées royaux des Beaux-Arts, Brussels
Copyright(s) :
All paintings:
Collection Philippson © Courtesy of the artists | photos : Vincent Everarts