Forty-six years after it was filmed, an extraordinary documentary has been released of Aretha Franklin recording her most popular album, and the biggest selling gospel album of all time.
The "Queen of Soul" was at the height of her career in 1972, having recorded 11 consecutive Number 1 singles in the pop and R&B charts. But she decided to return to her roots – singing in her Baptist minister father's church and revival meetings – and record a gospel album.
It was recorded live over two nights in the New Temple Missionary Baptist Church in Los Angeles. The church was in the Watts neighbourhood infamous for the race riots that had devastated the area in 1965, when the frustrations of the African American community exploded into violence.
Aretha was accompanied by the Southern California Community Choir, directed by another gospel star, Rev. James Cleveland, who had been minister of music at Aretha's father's church. The audience was mainly the congregation and local people, resplendent in 1970s Afros. Gospel singer Clara Ward was a guest of honour, as well as the Reverend CJ Franklin, Aretha's father. (And Mick Jagger slipped in at the back.)
Visible at Last
As well as the sound recording, the two nights were filmed to make a documentary, directed by Sydney Pollack (Tootsie, Out of Africa), who had just won his first Oscar. But he had no experience of documentary making and made a rookie error: there were no clap boards used, so the editors had no way to synchronise the sound with the images. The double album Amazing Grace became an instant and long-lasting hit, but the reels of film were left in an archive.
Composer Alan Elliot started trying to find a solution to synchronise the sound in 1990. After years of trying, and thanks to new technology, it was finally possible to release the film in late 2018.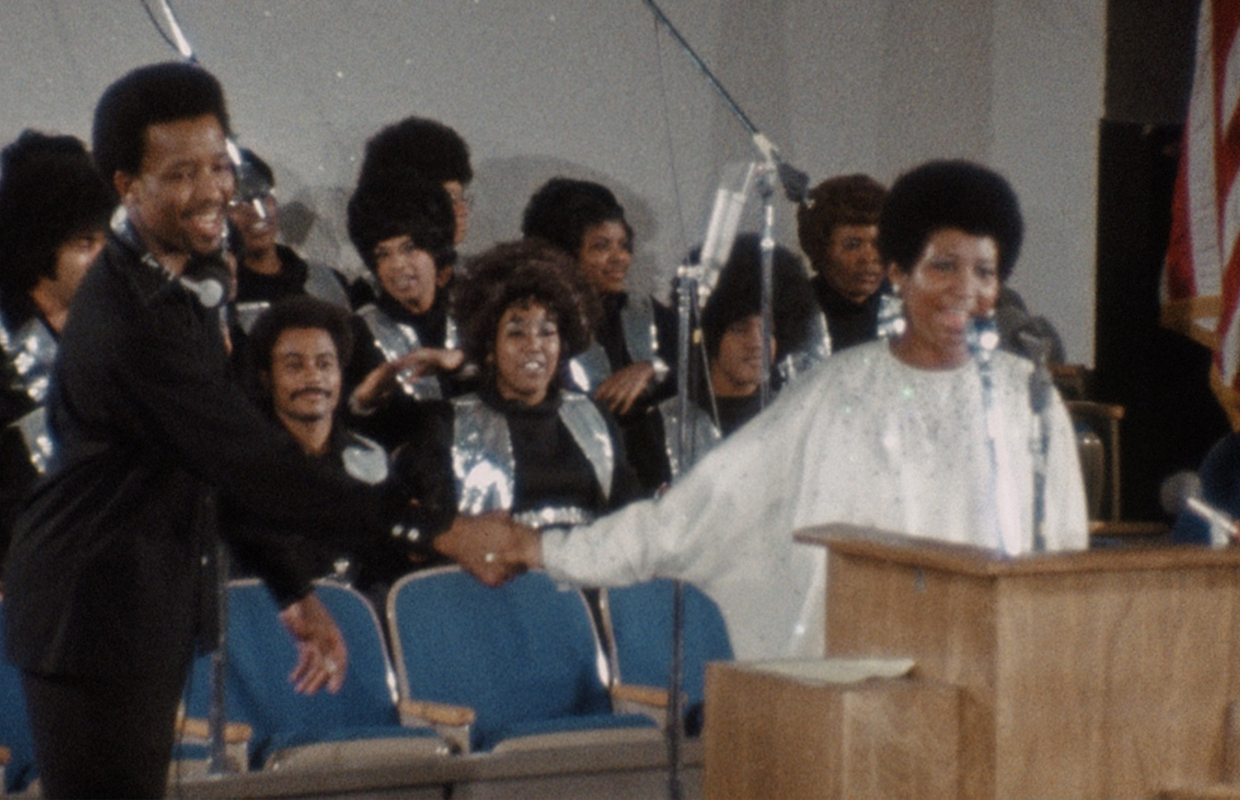 The end result is wonderfully intimate. It really feels as if you were in the church, hearing and seeing the technical problems, false starts and casual comments of the musicians and audience. Then suddenly that all stops as Aretha's ethereal voice rises through the air. For someone had the reputation of being a diva, she comes across as shy and introverted, rarely opening her mouth except to sing, docilely being directed by the larger-than-life James Cleveland. There is no set, she is just standing at the pulpit, or sitting at the piano, with the choir behind her, as if it were a church service. It is gospel in its natural habitat, with plenty of audience participation. But above all, it is a sublime voice, at the height of its power, that can't fail to send shivers down your spine.
Amazing Grace
On limited release from 6 June.
Copyright(s) :
Metrofilms