At the end of the most-watched Women's World Cup ever, an exciting final pitted the Netherlands against reigning champions the U.S.A. The Oranje held off the Stars and Stripes for the first half, but in the end the experience of the American team showed as goals from Rapinoe and Lavelle gave them their fourth World Cup title.
Rapinoe's goal came from a penalty, and yet another of the  video refereeing decisions (VAR) that have caused as much controversy at the Women's World Cup as they did at the Men's last year in Russia. But Rose Lavelle's goal left no room for doubt. It was a worthy win.
The U.S. swept the board of players' prizes too, with Rapinoe just pushing out Morgan for the Golden Boot (both players scored six goals, but Rapinoe was faster). Rapinoe, 34, also received the prizes for player of the match and the tournament.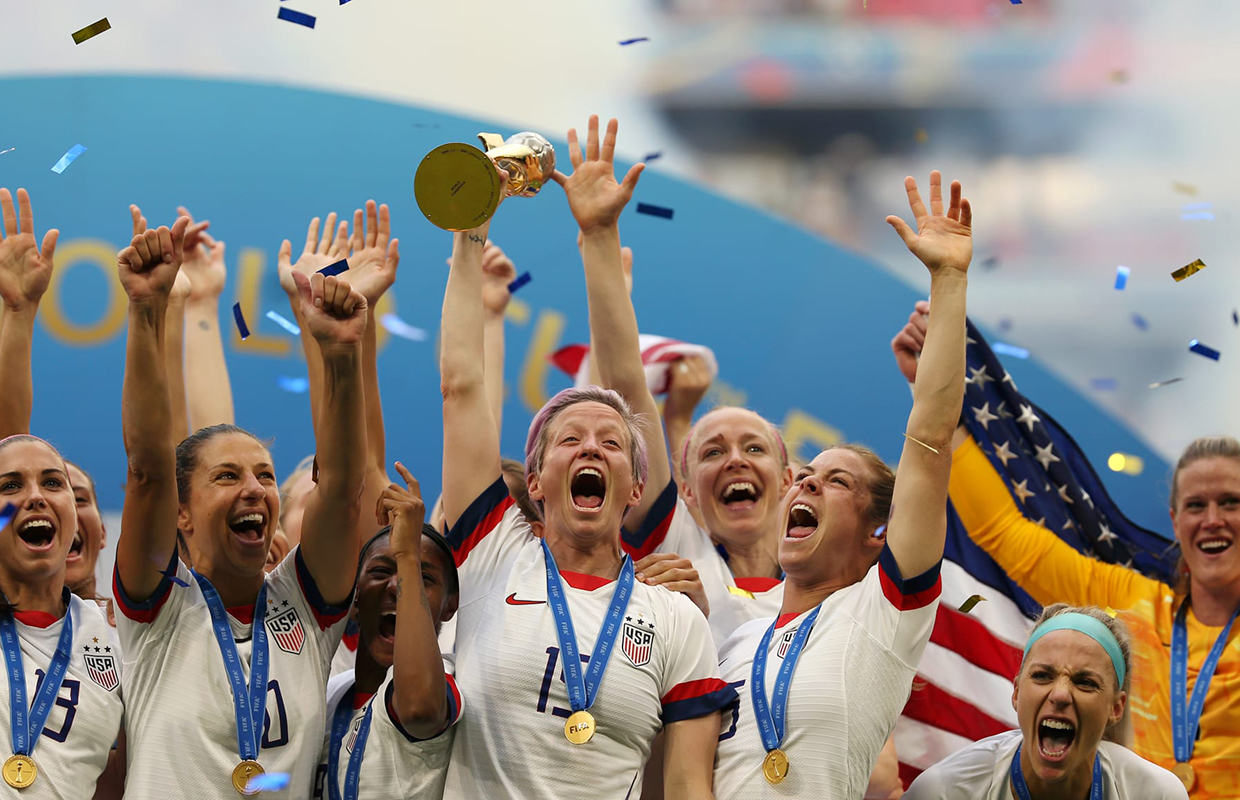 The Stade Olympique in Lyon, hosting the final, rang to cries of "Equal Pay, Equal Pay", at the final whistle,as FIFA president Gianni Infantino arrived on the pitch. The U.S. team is currently suing its federation for equal status with the much less successful men's team.
Rapinoe has been vocal in her support for equal pay, and in her opposition to President Donald Trump, implying she would refuse to go to a White House reception if the team were invited. The purple-haired striker, who plays her club football with Seattle Reign FC, is also a willing spokesperson for the LBGTQ+ community. Rapinoe has also been a long-time supporter of NFL player Colin Kaepernick's "take a knee" protests during the national anthem. She joined his protests back in 2016. U.S. Soccer created a rule forcing players to stand for the anthem, so now she stays silent.
With women's football drawing more and more attention - FIFA estimates the World Cup tournament drew more than a billion TV viewers for the first time - Rapinoe and fellow players intend to make the most of the platform it provides to encourage more girls and women to play, and better conditions for women's football at all levels.
Copyright(s) :
Top image: Julie Ertz and Crystal Dunn of the USA celebrate. Phot:o Maddie Meyer - FIFA/FIFA via Getty Images
Team photo: by Joosep Martinson - FIFA/FIFA via Getty Images