Soul singer Aretha Franklin has been posthumously honoured with a Pulitzer Prize. The 2019 winners list revealed on 15 April also included Richard Power's extraordinary novel The Overstory and The New York Times and The Wall Street Journal for their investigations on President Donald Trump.
Aretha Franklin  (pictured) died in August 2018, at the age of 76. The singer and civil-rights activist left an indelible legacy after her long career, including classic songs such as "Respect", "Chain Of Fools" and "(You Make Me Feel Like) A Natural Woman".
She is the first woman to receive a special posthumous citation, which has only been awarded 13 times in 75 years in the Arts category. She joins such luminaries as musicians Bob Dylan and Duke Ellington, composer George Gershwin and author Ray Bradbury.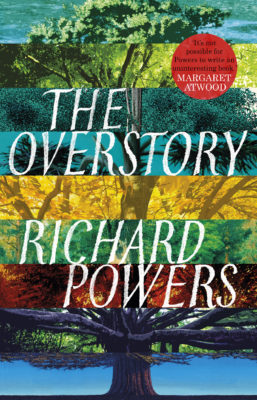 Listen to the Trees
Richard Powers monumental novel The Overstory won this year's Pulitzer for fiction. The book, which was shortlisted for 2018 Booker Prize,  follows the stories of nine different people determined to save virgin forests from destruction.
Richard Powers reads from his novel:
You can download a fascinating radio interview with Powers about nature writing from the BBC.
The 2019 Pulitzer Prize for history was awarded to historian David W. Blight for Frederick Douglass: Prophet of Freedom. Douglass (1818–1895) escaped slavery to become one of the most powerful orators and campaigners for abolition.
Professor Blight is Director of the Gilder Lehrman Center for the Study of Slavery, Resistance, and Abolition at Yale University.
In the Forefront of News
The Pulitzers were founded by newspaper magnate Joseph Pulitzer, and there 14 different journalism categories.
Journalists from The New York Times and The Wall Street Journal for took the Explanatory Reporting and National Reporting categories for investigations into President Donald Trump's business finances, and payoffs to alleged mistresses. Tragically, the Public Service and Breaking News Reporting Prizes were awarded for journalism about mass shootings. The first to the South Florida Sun Sentinel for their reports about the Marjory Stoneman Douglas High School shooting. And the second to the Pittsburgh Post-Gazette for its "immersive, compassionate coverage" of the Tree of Life synagogue massacre.
A second Special Citation was made to for a newspaper team's personal experience rather than their reporting: five journalists were mown down in their newsroom at The Capital Gazette, Annapolis, Maryland on June 28, 2018. Their colleagues were determined to publish the weekly paper on time the following day to pay tribute to the five, who were killed by a man who had a grudge against the paper. The Pulitzer Board honoured the newsteam for, "demonstrating unflagging commitment to covering the news and serving their community at a time of unspeakable grief."
Copyright(s) :
Aretha Franklin performs during "The Gospel Tradition: In Performance at the White House" in the East Room of the White House, April 14, 2015. (Official White House Photo by Pete Souza)
The Overstory: William Heinemann