If you want to  work on Britain in the Second World War with your pupils, there are lots of online tools to help you. Here are some on The Battle of Britain and the subsequent Blitz.
The newly renovated Imperial War Museum has a very interesting mini-site on the Battle of Britain using fascinating photographs and objects from their collection, including recordings of surviving pilots remembering the battle which are clear and easily understandable.
They also have a mini-site on the Blitz. The "Quick reads" and photo stories are a rich mine of useable material, as well as the videos.
Propaganda
This American propaganda film "London Can Take It" gives an eerily realistic image of what life was like in London during The Blitz. The voiceover is slow and clear. It's usable in part from A2, fully from B1. It would be interesting to ask pupils to pick out the war lexicon and, for more advanced levels, see how it is used to strengthen the propaganda message.
It would also be interesting to work on the reporter's anthromorphic language, referring to London as "she". 3'52"-3'59": "London raises her head, shakes the debris of the night from her hair, and takes stock of the damage done."
Pupils can be asked to comment on the the journalist's statement "I am a neutral reporter."
The Battle of Britain Memorial between Folkestone and Dover on the South coast pays tribute to "The Few", the pilots who participated in the Battle of Britain. This short video is a good introduction to the topic, with images of Spitfires and short extracts of Winston Churchill and Neville Chamberlain's voices as well as popular wartime songs such as "White Cliffs of Dover" and "Lili Marlene". (Sound starts at 0'24".)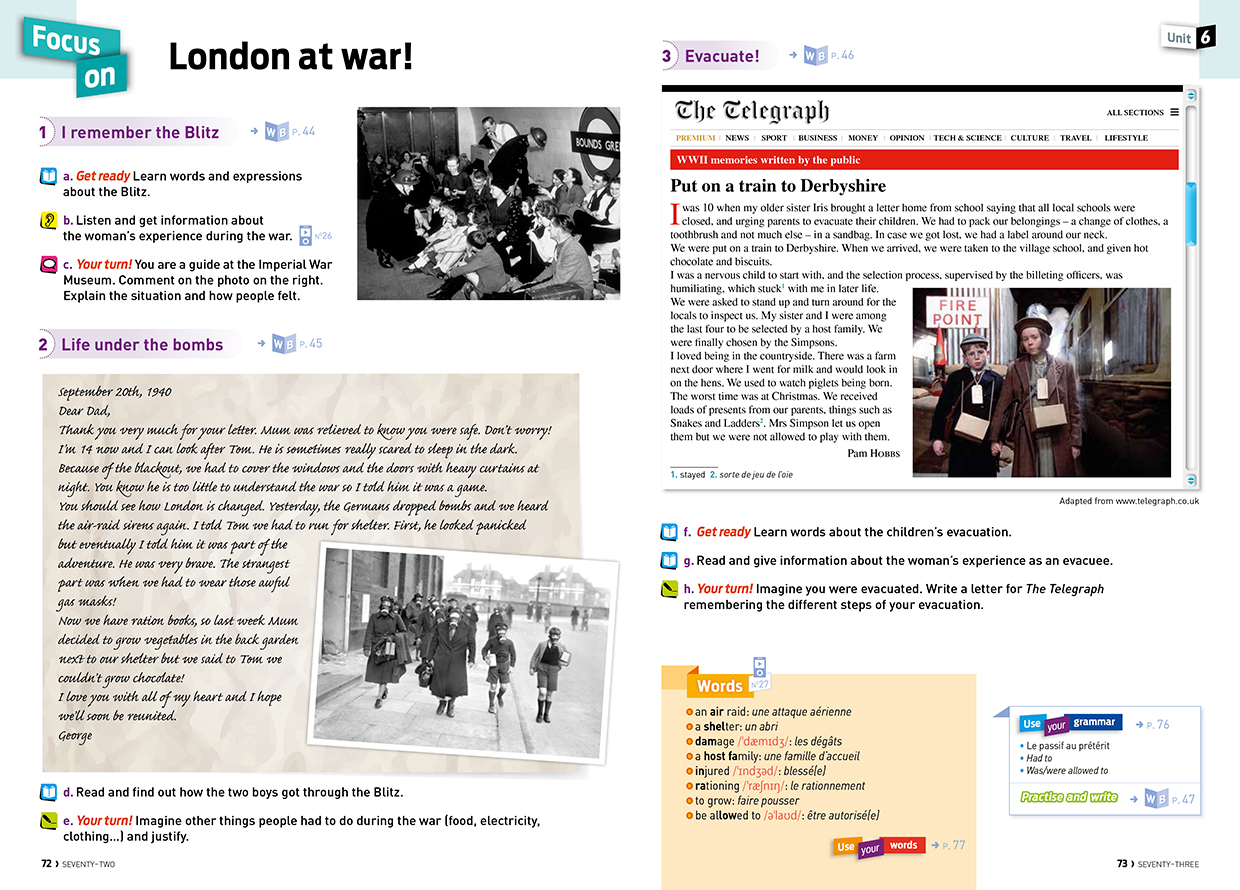 Blitz Kids
In Give me five! 3e Unit 6 is all about young Londoners' experience of the Blitz, whether they stayed in the city during the raids or were evacuated to the countryside.
Download a sample double-page here.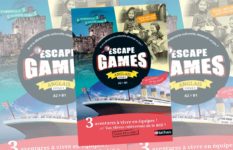 Escape Game!
You blitzed it! You found the teaser video for "Keep calm and beat the Blitz". After watching it, you can head back to search for more clues.