F.W. De Klerk, South Africa's last President of the apartheid era, and instrumental in ending it, has died aged 85.
Frederik Willem De Klerk was born into an Afrikaner political dynasty and after a short career as a lawyer became a career politician. He was elected an MP in in 1972, scaling the ranks of the National Party, holding several ministerial positions from 1978.
After having been colonised by the Dutch, British and French, South Africa was a deeply unequal society. The white minority reserved power to itself. The National Party formalised this de facto segregation when they introduced apartheid in 1948. The word means "apartness" in Afrikaans and aimed to classify and separate South Africans according to the colour of their skin and ethnic background: white and black but also the large community from the Indian subcontinent, and "coloureds" (with mixed heritage).
In January 1989, F.W. De Klerk took over leadership of the National Party after P.W. Botha had a stroke. He then replaced Botha as President in September. Almost immediately he started dismantling the structure of apartheid. Just five months after coming to power, in February 1990, on his authority, Nelson Mandela was released from prison.
Mandela was still the acknowledged leader of opposition to apartheid despite having spent 26 years in jail for his role in the African National Congress.
It then took four more years to negotiate a complete change of constitution, which gave all South Africans the same rights.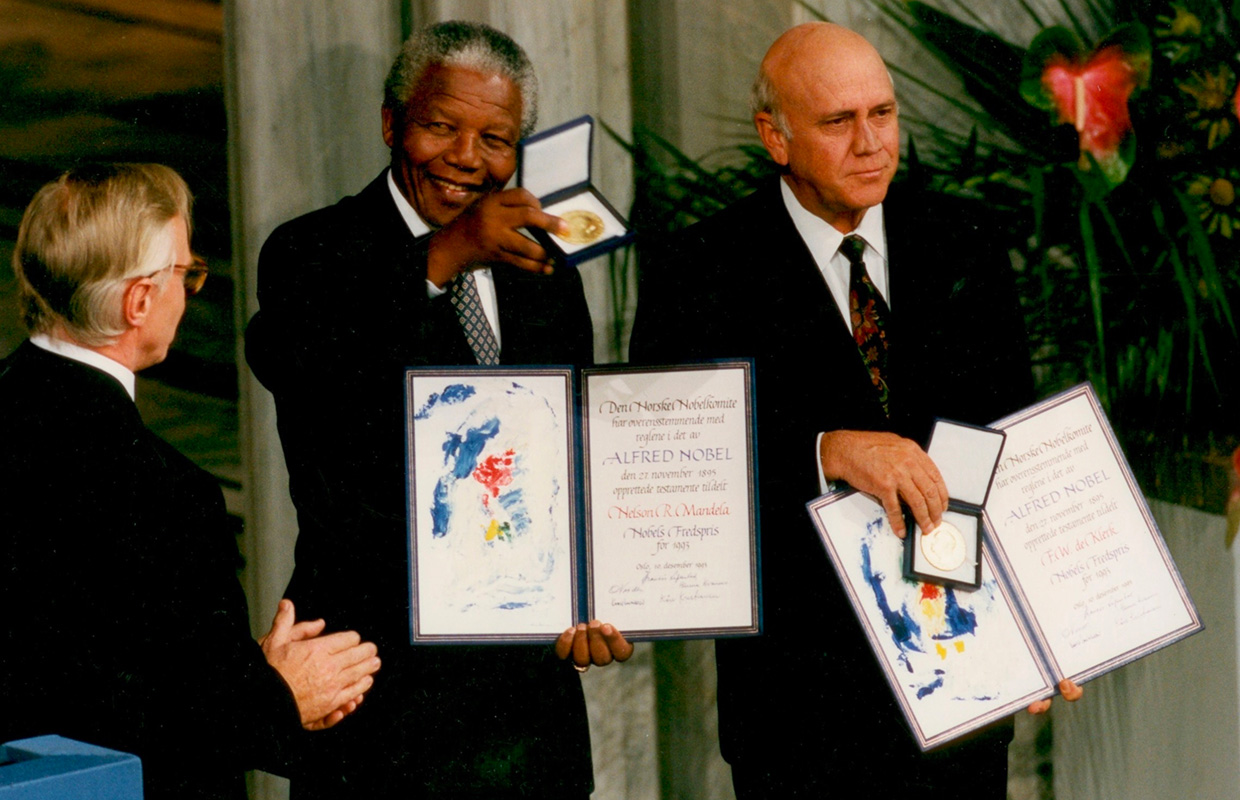 In 1994, Mandela was elected South Africa's first black President. For many South Africans it was the first time they were able to vote. De Klerk served two years as Deputy President before retiring from politics in 1997.
De Klerk's actions were clearly decisive in ending an iniquitous system. His motivations, like anyone's, are less clear-cut. When de Klerk came unexpectedly to power, South Africa was in an untenable position, an international pariah. Anti-apartheid opponents had managed to spread their message around the world and a series of boycotts and sanctions were hitting the country economically. De Klerk had the clear sightedness to understand that apartheid was untenable.
In his autobiography, The Long Walk to Freedom, Mandela wrote:
"Despite his seemingly progressive actions, Mr. de Klerk was by no means the great emancipator," Mandela wrote. "He did not make any of his reforms with the intention of putting himself out of power. He made them for precisely the opposite reason: to ensure power for the Afrikaner in a new dispensation."
Mixed Legacy
Whether it was a sudden recognition that the apartheid regime he had served was morally indefensible, or just plain political pragmatism, de Klerk got the job done. He must also get some credit for his work through the transition period, when the widely expected blood baths and community violence never reached proportions which detailed the move to a new constitution.
After retiring from politics, he created a charitable foundation to "work for peace in multi community societies."
The Nelson Mandela Foundation made a statement saying that De Klerk's legacy was mixed, but acknowledging Mandela's judgement that, De Klerk was "a South African who tried his best".
South Africa's president, Cyril Ramaphosa, said that De Klerk, "Took the courageous decision to unban political parties, release political prisoners and enter into negotiations with the liberation movement amid severe pressure to the contrary from many in his political constituency."
Message from Beyond the Grave
Announcing de Klerk's death from cancer, his Foundation released a video, a final message in which De Klerk apologises for, "The pain and the hurt and the indignity and the damage that apartheid has done to black, brown and Indians in South Africa."
The Truth and Reconciliation process negotiated as part of the new South African constitution was credited with avoiding a civil war by allowing perpetrators and victims of apartheid to tell their stories and receive recognition, or a form of absolution. But it has meant that no one has been prosecuted for their actions. There are South Africans who feel that apartheid era security forces and political leaders, including De Klerk, should have been put on trial. They will no doubt not be silenced by a post-mortem apology.
The Desmond and Leah Tutu Foundation, created by the anti-apartheid archbishop who led the Truth and Reconciliation Commission, said in a statement, "It is sad that Mr de Klerk missed the many chances he had to fully reconcile with all South Africans by acknowledging the full extent of the damage caused by apartheid. That damage is with us today. We are in many ways a broken society."

This story makes a great background to
Shine Bright
1e
File 16 "Born-Free South Africa" .
Copyright(s) :
F.W. De Klerk Foundation