April 22 is Earth Day and its organisers are encouraging us all to "invest in our planet", the theme of this year's event. It certainly needs us all to pay more attention to its needs. Earthday.org and NASA provide lots information and teaching tools to engage students and offer practical actions to take.
This 1-minute video introduces the theme of this year's edition. It's subtitled, so students from A2 should be able to get the gist. With older students, it would be interesting to discuss this quote from the video, "People, governments and businesses all fear change, but the status quo, the way we live today, is changing before our eyes." Can pupils think of examples. Do they perhaps think that their generation is better equipped, or more motivated, to take action?
The Earth Day site has a wealth of resources.  There are fact sheets on topics like plastic pollution, reforestation and bees. (A good addition to Shine Bright 3e Unit 4 Teen Entrepreneurs where pupils can discover social entrepreneur Makaila Ulmer, who started Bees and Me Lemonade to spread awareness about the depletion in bee populations and why they are so important for all of the plants that feed us. A percentage of the price of each bottle is donated to charities working to save bees.)
The Earth Day site also has quizzes (which often correspond to the factsheets, giving instant gratification!) and other teaching resources. Specifically on plastic pollution, their plastic consumption calculator is a simple language exercise and can help pupils become aware of how much plastic they use and throw away, and maybe try to reduce it.
The Great Global Cleanup
Earth Day is also linking up with existing organisations to encourage supporters to get involved in cleanup events, when citizens groups go out and pick up rubbish from a beach, a park or area of beauty. There are quite a few registered for France, or you can create your own.
This video explains plogging (regularly combining picking up rubbish with jogging or walking), if doing a cleanup becomes a habit. It's usable at least in part from B1+.
Eyes on the Earth
Although it is a space agency, NASA spends a lot of time observing the Earth. It produces an Earth Day poster every year, and this year it contains QR codes that connect to various NASA minisites on aspects of our planet and climate change. You can also access all the links on a dedicated webpage.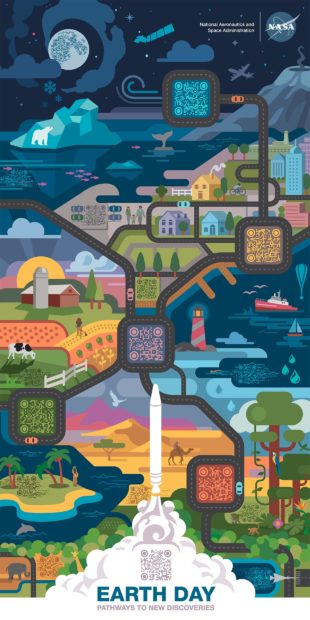 This video explaining why sea-level is rising is behind code 8 (next to the water drops on the right, under the yacht.) It only has no text, no voiceover, and could be used from A2. You can also access fairly simply quizzes (code 4, between the parked cars, a bit below the polar bear.)
Student Climate Champions
The Financial Times recently put out a call for stories of young people who are doing their bit to help the climate. This article has several examples, each quite short, from different places, including students helping research their school's carbon footprint and reduce it, growing vegetables, installing beehives or building energy saving devices.