The 2017 Man Booker Prize, the UK's most prestigious literary award, has been awarded to a first novel by American short-story writer George Saunders for Lincoln in the Bardo.
Saunders is a veteran author but up till now he has specialised in short stories – Time magazine declared him the best short-story writer alive today. A regular contributor to The New Yorker magazine, he has published four acclaimed collections of stories as well a children's book and essays.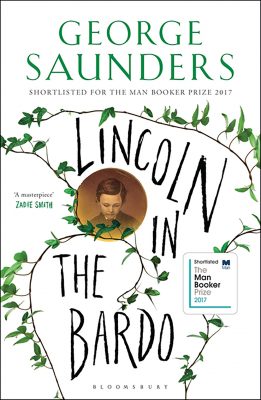 To write Lincoln in the Bardo, Saunders created an experimental form of narrative. His starting point was a snippet of information he had heard about President Abraham Lincoln. In 1862, in the middle of the Civil War, Lincoln's 11-year-old son Willie died from typhoid. His coffin was placed in a temporary crypt in Washington, DC until he could be taken to the family home in Illinois. In fact, his coffin stayed in Washington until Lincoln was assassinated in 1865, and the two Lincolns were taken to the family crypt together.
The President was so overcome with grief at the death of his son, and beset with guilt about war deaths, he frequently visited Willie's coffin seeking solace.
Saunders explains, "The form of the book was a big problem, so finally I settled on a kind of "Greek chorus" approach, where it's basically a series of hundreds of monologues that come from other ghosts in the graveyard, from historical sources both real and invented."
In fact, there are 166 narrators or voices in the book and at times it is almost like reading a play. "Bardo" is a Tibetan Buddhist concept a little like limbo – a transitional state between death and your next rebirth.
Saunders, 58, teaches creative writing at Syracuse University, New York, but he had many different jobs before attempting to become, in his own words, "Kerouac II". He originally studied geophysics, and worked on oilfields in the Sumatran jungle, Indonesia, where reading became his main pastime. He returned to the States and did a range of day jobs including working in an abattoir. Even after doing a Masters in creative writing, it took several more years as a technical writer in pharmaceuticals and engineering before beginning to earn a living from his fiction.
Shortlist
This is the second year in a row that the Man Booker has been won by an American author — and also the second when it has been open to U.S. authors as well as British and Commonwealth writers. Past winners include Salman Rushdie, Hilary Mantel, Margaret Atwood and this year's Nobel laureate Kazuo Ishiguro.
The other shortlisted works for the 2017 prize were:
4321 by Paul Auster (US)
History of Wolves by Emily Fridlund (US)
Exit West by Mohsin Hamid (UK-Pakistan)
Elmet by Fiona Mozley (UK)
Autumn by Ali Smith (UK)
The BBC website has interviews with all six shortlisted authors.
Copyright(s) :
Man Booker Prize