There are a few changes in the LLCER 1ère set texts list for 2023-2026 and lots of you have been asking if we are going to publish a Reading Guide for Fahrenheit 451. The answer is yes, and we're also going to publish our first Film Guide for 1ère: West Side Story.
The updated list has one added novel, Bradbury's Fahrenheit 451, and two novels have been removed, Orwell's Animal Farm and Steinbeck's Of Mice and Men. In the films, Christopher Nolan's Interstellar has been replaced by Stanley Kubrick's 2001: A Space Odyssey. The updated list for2023-2024 et 2024-2025:
Œuvres littéraires :
Ray Bradbury, Fahrenheit 451 (1953) ;
Mark Haddon, The Curious Incident of the Dog in the Night-Time (2003) ;
Harper Lee, To Kill a Mockingbird (1960) ;
Edgar Allan Poe, The Fall of the House of Usher, 1839 - The Tell-Tale Heart, 1843 (les deux nouvelles comptent pour une œuvre) ;
Carson McCullers, The Heart is a Lonely Hunter, 1940 ;
Oscar Wilde, The Importance of Being Earnest, 1895.
Œuvres filmiques :
Stanley Kubrick, 2001: A Space Odyssey, 1968 ;
Jerome Robbins & Robert Wise, West Side Story, 1961.
Coming Soon

Our Reading Guide for Fahrenheit 451 will be published in early November. Meantime, you might like to use the resource we produced on Bradbury for the centenary of his birth.
Bradbury's 1953 masterpiece is set in a dystopian future where books are banned. The protagonist, Guy Montag, is a fireman, whose job isn't to extinguish fires, but to burn books. (451°F is the temperature at which paper burns.) Then he meets a young woman, Clarisse McClellan, who resists the dictates of the society they live in, and Montag begins to have doubts about his work.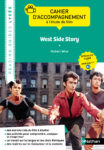 Our Reading Guide for West Side Story will be published in January.
West Side Story is a 20th century retelling of Shakespeare's Romeo and Juliet set in a working-class neighbourhood. The Capulets and Montagues are replaced by street gangs, the Jets and the Sharks, representing different immigrant groups. The 1961 film is an adaptation of a 1957 Broadway musical which features songs by Leonard Bernstein and Stephen Sondheim and choreography by Robbins.
Why not check out this Lumni programme about the film presented by Erwan Gouraud and Lynda Itouchène, the author of our guide. We also have a downloadable resource about Steven Spielberg's recent remake.

Downloadable resources ready to use in class
>
Reading Guides LLCER Terminale
>
Teaching LLCER anglais monde contemporain
>
Staging Emotions: West Side Story
>
Save the Date: West Side Story on Stage