February 2021 sees the 200th anniversary of the untimely death of British Romantic poet John Keats. The author of "Ode to a Grecian Urn", "La Belle Dame Sans Merci" and "To Autumn", died of tuberculosis at the age of 25, convinced his literary career was a failure. Yet his poems became some of the best loved in the English language.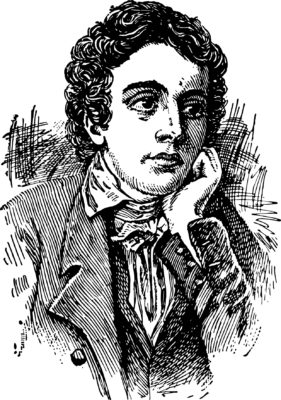 John Keats was not destined for literature. The son of innkeepers, he lost his father to a riding accident when he was just eight and his mother to the consumption that would take his brother's life and his own. By age 20 he had been apprenticed to an apothecary and qualified as a doctor. Yet he gave it all up to pursue a life as a poet, filled with awe for the natural world.
His last three years were marked by a passionate love affair with Fanny Brawne. The couple got engaged but had no hopes of marriage since John could not make a living from his work. He published just three books in his short career, two collections and an epic poem, Endymion. When he recognised the symptoms of tuberculosis, he travelled to Italy in the vain hope that the gentler climate would cure him. He died in Rome on 23 February 1821. Believing his literary heritage wouldn't survive, he asked for this sentence to be inscribed on his tomb: "Here lies one whose name was writ in water."
Keats excelled at the ode form. Here is a reading of "Ode to a Nightingale".
The house where Keats lived in London, and was a neighbour of the Brawne family, is today a museum,  as is the house where he died in Rome. Below is the introduction to a virtual tour of the London museum.
Jane Campion's 2009 film Bright Star tells the story of Keats' romance with Fanny Brawne, played by Ben Whishaw and Abbie Cornish.
Copyright(s) :
Keats Foundation
Morphart Creation/Shutterstock

Downloadable resources ready to use in class
>
Studying Wordsworth's Poetry for Spring