The Entente Cordiale Cultural Centre at the Château d'Hardelot, Condette (62) is hosting a season from 12 to 28 May exploring women and gender in Shakespeare's works. Shakespeare Nights will be filled with characters such as Ophelia, Lady Macbeth, Beatrice and Juliet through nine theatre pieces and a live film projection of A Midsummer's Night Dream. If you're studying Much Ado About Nothing with your LLCER students, there's a performance on 28 May that's a little different...
Shakespeare Nights is an annual event at the Entente Cordiale centre, which has a specially built Elizabethan theatre, the only one in France.But this year the focus is on women with the title "Tou(te)s des FHamlet". Several young theatre companies have created pieces that shine another angle on characters we think we know.
In La petite histoire, the ghosts of Juliet's father and Romeo's mother try to understand what happened to the "starstruck lovers". A Monologue de Juliette takes it further. Another piece focuses on Ophelia and her treatment by all the men around her, including Hamlet. Shakespeare himself is the subject of some of the performances, such as You Will Love Me, based on the sonnets and an Oscar Wilde text, and Madame Shakespeare, imagining an epistolary exchange between Shakespeare and his wife Ann Hathaway, where she is the one setting up his career.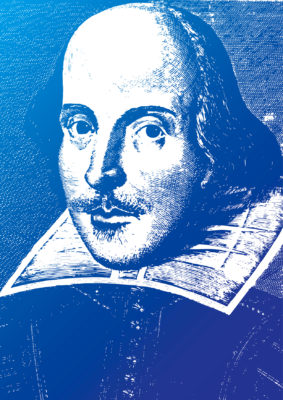 There are "Walks with Will" through the grounds and castle, full of surprises, and a live projection of Opéra Lille's production of Benjamin Britten's A Midsummer Night's Dream. On 28 May, there will be a gender-switched performance of Much Ado About Nothing in French. In a play that is a verbal joust between Beatrice and Benedick, but also all their companions in distinct male and female camps, how will this change of focus affect the audience's perception?
You can find the details of the three weekends' performances on the centre's site.
Shakespeare's Women
Of course women were played by boys in Shakespeare's time, but in more recent eras, his female characters have provided some of the most meaty roles in many actress's careers. That's not to say there aren't questions to be asked about the actual characters, who often have a lack of agency. To some extent that was Shakespeare reflecting the position of women in Elizabethan and Jacobean society, but many directors and companies today are offering new ways to portray these characters, or are having women play traditional men's' roles for example. There have been calls recently to stop performing certain plays, such as The Taming of the Shrew, because of the sexist nature of the plot, in the same way as The Merchant of Venice is condemned for anti-Semitism.
Gender was definitely fluid in Shakespeare's work, as it may have been in his own life, if his Sonnets, to a "dark lady" and a "fair youth" are to be believed. Shakespeare, like many playwrights at the time, revelled in stories of hidden, mistaken or double identities. Twins abound in his plays, usually one female and one male, and they pass for each other with ease to advance the plots.
The Royal Shakespeare Company, Shakespeare's Globe and West End productions in recent years have tried innovations such as all-male or all-female casts to question gender in the plays.
The photo at the top of the page is entitled "Shakespeare's Sister", in homage to Virginia Woolf's essay of the same name in A Room of One's Own, 1929. In it, she considers what life would have been like if Shakespeare had had a sister who had similar ambitions to him. You can find an extract of the essay in Shine Bright LLCER File 3 Brave New Women. And the whole season connects to File 13 "Staging Emotions", exploring Shakespeare: master of emotions.
12-28 May 2022
Shakespeare Nights
« Tou(te)s des FHamlet »
Château d'Hardelot
Centre culturel de l'Entente cordiale
62360 CONDETTE
The centre is also hosting an exhibition about Sherlock Holmes and Conan Doyle till 6 November.
Copyright(s) :
"Shakespeare's Sister" ©: Carmen Mariscal