A new exhibition gives a fascinating insight into the songlines which are a fundamental part of Indigenous Australian culture. These creation stories also function as oral maps to practical places such as waterholes and to sacred sites. The exhibition at Quai Branly was curated by Indigenous Australian Elders, who traditionally preserve and pass on the songlines stories.
Australian National Museum lead Indigenous curator, Margo Neale explains, "Songlines is a cross-cultural term, a passport to the deep knowledge embedded in the land which we now all share. They are our foundational stories about the creation of this continent and critical to the sense of belonging for all Australians."
This is a video clip entitled "The Songlines" from the documentary series and website First Australians produced in 2008 by Blackfella Films for SBS Television.
The new exhibition particularly focuses on the the story of the Seven Sisters, as they traverse the continent from west to east, through three states, three deserts and across some 500,000 square kilometres. Songlines: Tracking the Seven Sisters traverses three Indigenous lands — APY (Anangu Pitjantjatjara Yankunytjatjara); Ngaanyatjarra and Martu. It features traditional artifacts, modern Aboriginal art and multimedia installations as well as a 7-metre-high  DomeLab where visitors can view the Seven Sisters rock art from Walinynga in South Australia, and watch an animation of the story. The DomeLab films really bring the whole story to life. (Note if you're taking a group, the Domelab can take 19 people at a time, lying on benches, and visitors come and go, so you'll need to have some organisation in place.)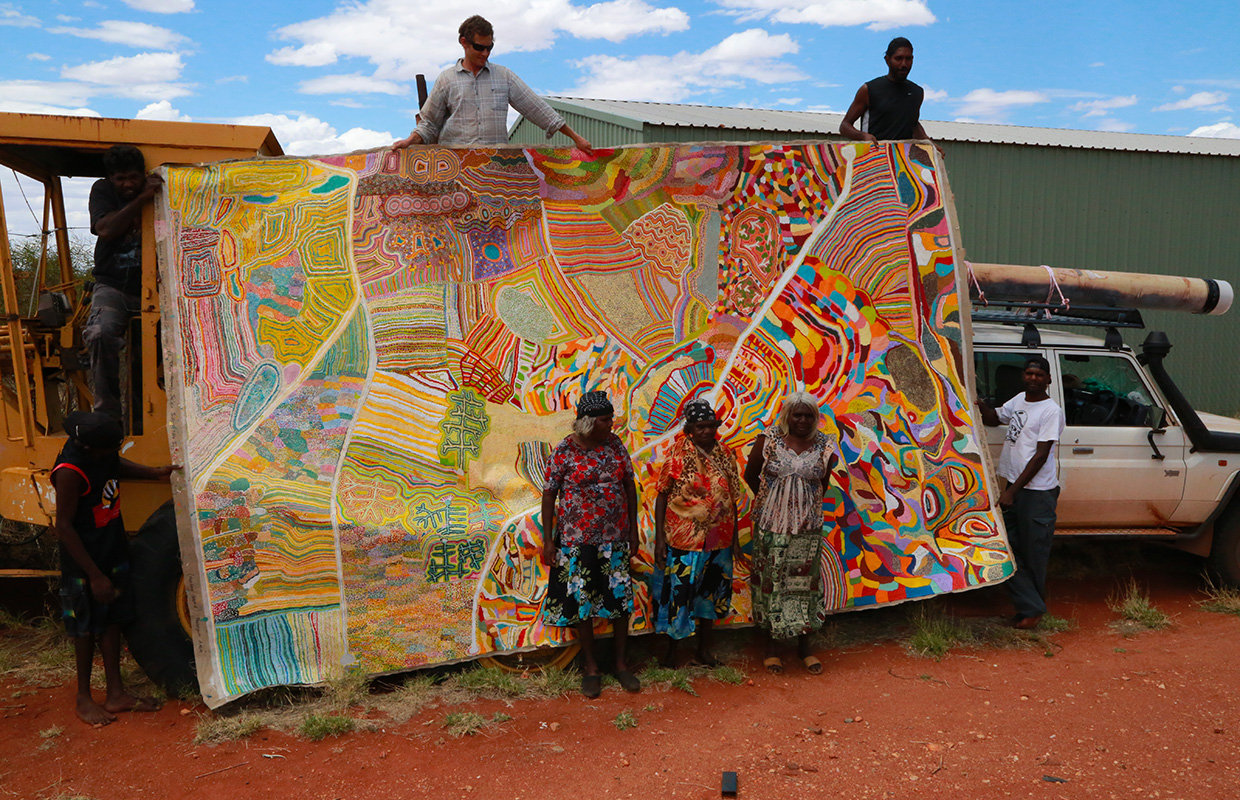 You can find more information in English on the Australian National Museum site. It includes interactives on the Seven Sisters Songlines and rock art.
There is very clear information about Songlines on the site of the Japinka Aboriginal Art Gallery based in Western Australia.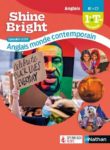 Find out more about Australian Aboriginal art in
Shine Bright AMC
SnapFile 28 Captain Pacific and
Shine Bright 1e
File 12 Peoples of Oceania,  about the Outback and Uluru in
Shine Bright 4e File 8
Into the wild outback, and more about Dreamtime in
Speakeasy Files 3e
.
Songlines
Musée du Quai Branly
Till 2 July 2023
Copyright(s) :
Tjanpi Desert Weavers Artists holding up their Seven Sisters representations, Papulankutja, Western Australia, 2015 © Annieka Skinner, Tjanpi Desert Weavers
Seven Sisters Songline 1994 Josephine Mick, Ninuku Arts Centre National Museum of Australia © the artist/Copyright Agency 2020 Image: National Museum of Australia
Martumili artists: Ngamaru Bidu, Kumpaya Girgirba and Ngalangka Nola Taylor standing in front of Yarrkalpa (Hunting Ground) near the Martumili Art Shed, Parnngurr, 2013. Image: Gabrielle Sullivan, Martumili Artists.