Charlotte, Emily and Anne Brontë were wonderful storytellers, but their lives have fascinated generations of audiences almost as much as their books. The play Brontë by Polly Teale combines their biographies and their fiction. We talked to Barry Purves, who directed a recent production.
Brontë by Polly Teale (2005), intertwines the biography of the Brontë family with their most famous novels, namely Wuthering Heights, Jane Eyre and Agnes Grey. The autobiographical influence on those novels becomes obvious as an alienated Branwell and revenge-thirsty Heathcliff superimpose, just like Emily and Catherine Earnshaw or Charlotte and Jane Eyre.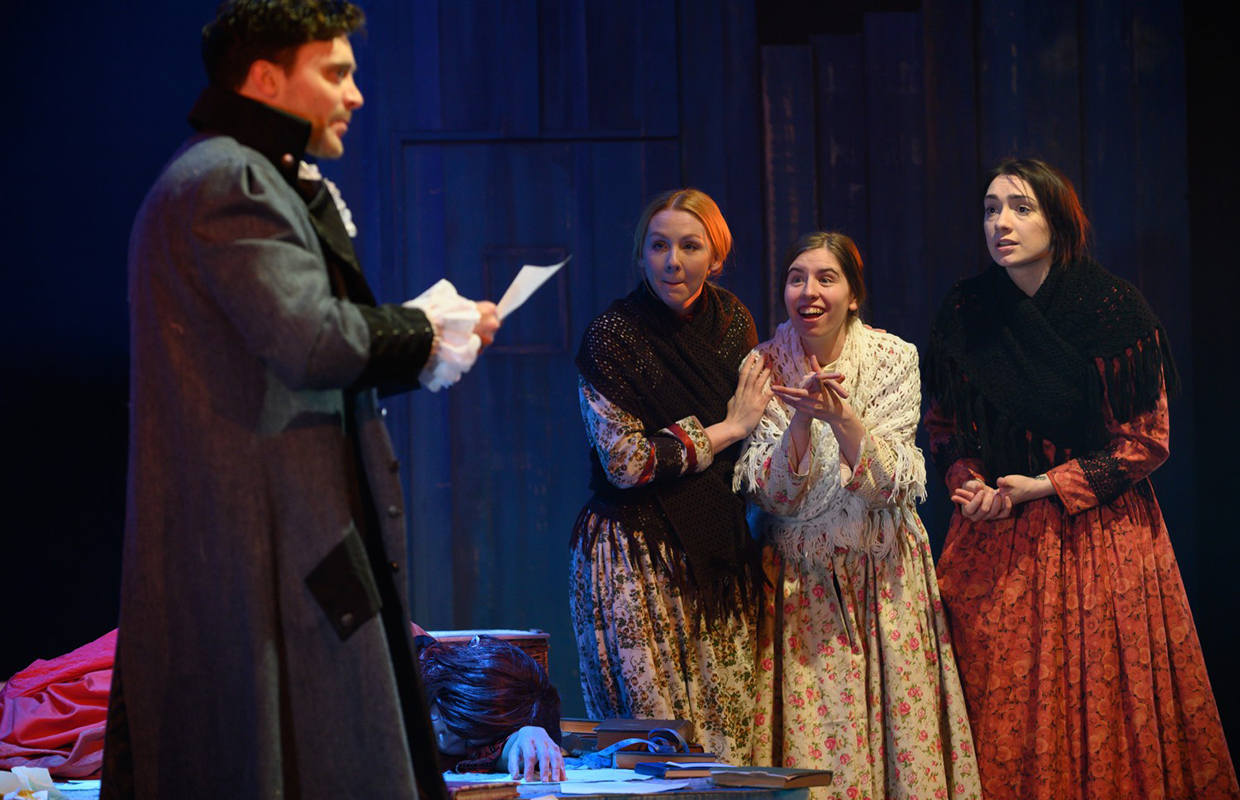 The 2019 staging of the play in Altrincham was directed by BAFTA and Oscar nominee Barry Purves, a polyvalent artist who has contributed to blockbusters such as King Kong by Peter Jackson or Mars Attacks by Tim Burton, and directed several successful BBC TV series. His career also spans over 40 years of animated films that won him critical acclaim worldwide as well as many awards. He has also directed and designed numerous plays including The Turn of The Screw, La Cage aux Folles, The Importance of Being Earnest and Aladdin, all having in common a taste for the lavish.
His 2019 production of Brontë features a set made of books against a backdrop of passing clouds, passion-driven characters imbued with melancholy, and probably the most handsome, truest-to-character Heathcliff / Branwell played by Anthony Morris. More than a biography, this play is a tearjerker that enables the audience to share the intimacy, joys and despair of a grief-struck, yet genially optimistic family.
Cyril Dowling spoke to Barry Purves for Speakeasy News about what Brontë  has to tell to today's audiences.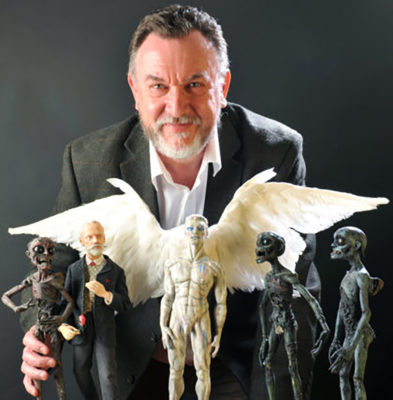 Why did you decide to put on this play? Were you driven by your love of this play or by your interest in the Brontës? 
I had just directed the play Playhouse Creatures, which was about five strong women becoming the first actresses in English theatre. It was beautifully theatrical, as was Brontë - theatrical and complex with many levels appealing to me. It also had a heartbreaking ending and that appealed to me as well. Above all, I enjoy the chance to learn and research — both of which I did for this play. I knew the main novels but to learn about the other novels and to visit Haworth was so satisfying.
What difficulties did you encounter while putting on the play? 
The challenge of the play, written with many levels happening at the same time, and characters all reflecting each other, was to keep the narrative as clear as possible, but also trying to show how the personal dramas found an outlet in the writing. Finding the right theatrical language was essential. We could have been more literal with costume changes and furniture moving, but the play is written more about ideas than literal narrative. It is pure theatre, and I asked the audience to accept six people playing many characters without changing costume or set. Hopefully the lighting and sound and music told us where we were at any given moment, and did the performances.
It was also a challenge on a large stage to convey both the intimacy and claustrophobia of the Parsonage as well as the bleak open spaces of the moors. The set concept took me a long time to work out.
Why do you think the Brontës are still so relevant to modern audiences? 
I find the earthy and rather twisted passions and obsessions still meaningful; finding truthful relationships, however dark, in a world of "easy come, easy go" is still important. But the sheer scale and imagination is still inspiring, and the joy of language and rich imagery. Beautiful craftsmanship.
You chose animation to convey your love of Shakespeare's works. So, why did you choose drama over animated film to recreate the universe of the Brontës? 
I think in today's television it would have been impossible to get a short film commissioned about the Brontës, and there is so much to say about them. With the Shakespeare film (Next – the complete works of Shakespeare in five minutes), I was quite lighthearted and playful - things not appropriate to the Brontës. 
You have cast young actors in your production. What is the best advice you could give to young artists?
Again it was about passion and physicality and being approximate, if not literal, ages. I was very lucky with the cast — a real joy to work with.
Copyright(s) :
Vishal Photography
Barry Purves
Notion(s) culturelle(s) : "LLCER"