The British government, led by Theresa May, has called a general election on 8 June, reversing the promises the Conservatives have made since the Brexit referendum vote on 23 June 2016.
Although the Conservative government had called the Brexit referendum, its Prime Minister and many of its ministers campaigned leaving the E.U. When the "leave" vote won, Cameron resigned and was replaced, uncontested, as leader of the party and Prime Minister by Theresa May. Nothing in British electoral law required the Government to call an election, and it argued that the country needed stability, not yet another election campaign after two years that had see the Scottish referendum, a general election, the Europe referendum and elections to the devolved parliaments of Scotland and Wales.
A U-Turn
In her speech announcing the call for the election on 18 April, Ms May blamed the decision on the parliamentary Opposition parties making the Brexit negotiation process as difficult as possible: "Division in Westminster will risk our ability to make a success of Brexit and it will cause damaging uncertainty and instability to the country. So we need a general election and we need one now."
According to the Fixed Term Parliaments Act 2011, the next general election should have taken place on 7 May 2020. Up until 2011, British parliaments were elected for a maximum of five years, but a Prime Minister could call an election when he or she decided before that date. Now, for an election to go ahead at a different date, two-thirds of the members of the Commons must vote for it. The Conservatives have 330 seats, just over half of the 650 total. The other parties supported the Government's motion on  19 May for the advanced election date, and it was passed with a large majority.
A Question of Timing
The decision to ask for an election may have been pushed by Opposition action, but the Government has also struggled to satisfy its own backbenchers' demands. With a working majority of just 17, the backbenchers have power to push for policy changes that don't fit with the Government's choices.
The Government is taking advantage of the "calm before the storm". Having triggered Article 50 signalling the beginning of the process of leaving the E.U. on 29 March, the Government is now waiting for the EU to formally begin negotiations. Nothing of substance is expected to happen before September. Leaving just enough time for the traditional three-week election campaign, and, the Conservatives hope, a renewed, and increased, majority.
After all the complaints by the "Remain" parties that the EU referendum didn't give a clear mandate for a "hard" or "soft" Brexit, in particular about leaving or remaining in the Single Market, they will now have a chance to present their vision of Britain's post-Brexit future.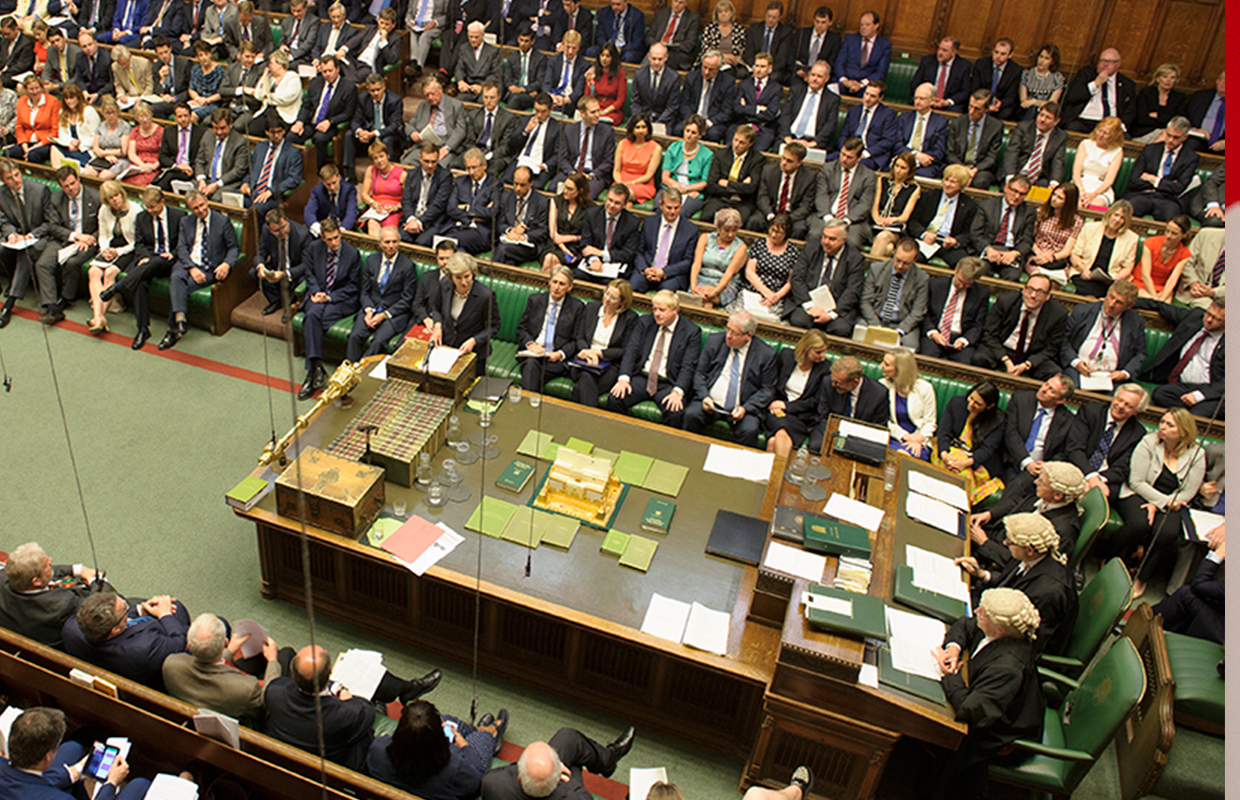 Copyright(s) :
Jay Allen/Crown Copyright