Tim Burton's latest film is being hailed as his best in twenty years. Miss Peregrine's Home for Peculiar Children could have been written for the director who has always had a fascination for misfits, from Edward Scissorhands to Ed Wood or Corpse Bride.
The film is based on the best selling American novel by Ransom Riggs. And the novel in turn was based on the author's collection of weird vintage photos he found in junk shops and yard sales. They showed children apparently levitating, lifting enormous rocks or covered in bees. Riggs' original idea was to publish a book for Halloween with the photos and accompanying poems. Instead, his editor had what turned out to be an excellent suggestion: use them to inspire a novel.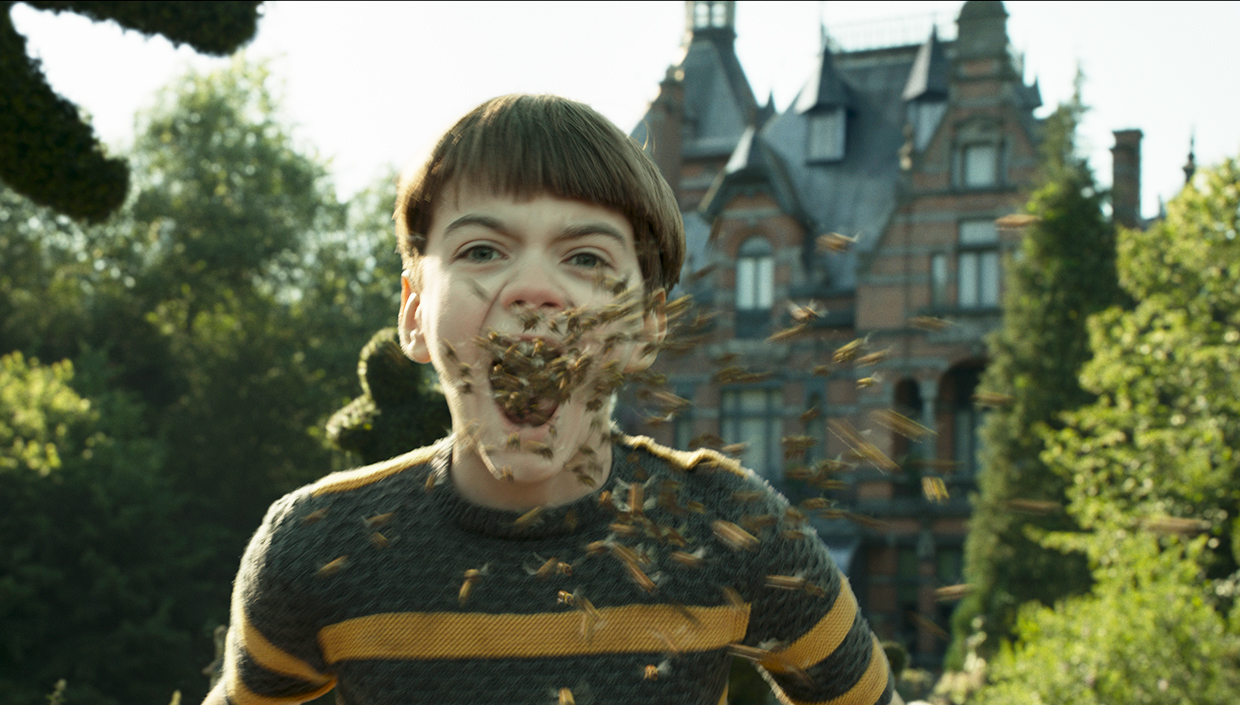 The novel tells the story of Jake (played by Asa Butterfield – Hugo Cabret), a teenager in modern-day Florida. As a child, he loved to listen to his Polish refugee grandfather's stories of an orphanage on a remote Welsh island where he lived during World War II and where the children all had peculiar talents – a girl who could float in the air, another who could make plants grow instantly, an invisible boy or one who has to wear a beekeeper's hat and veil to protect other people because he has a swarm of bees living inside him. Grandfather Abe also described terrible monsters that threatened the children in Miss Peregrine's Home. As Jake grew, Jake decided the tales were simple fantasies, or metaphors to describe the horrors his grandfather had suffered at the hands of the Nazis. But when his grandfather dies in mysterious circumstances, Jake wants to find out for himself if the stories were true after all.
Travelling to Europe, he finds the home exactly as his grandfather described, since Miss Peregrine protects her wards inside a time loop. They constantly relive a single day, 3 September 1943, at the end of which, a German bomb landed on the home. The loops protects the "Peculiars" both from the ordinary population, which has historically persecuted those who are different, and from Hollowghasts and Wights, self-made monsters that prey on Peculiars.
Moving Pictures
If Ransom Riggs gave life to his strange photographs by weaving a story, Tim Burton gave life to them again in film form. Burton's first love was animation (he worked for Disney as animator in his first job) and in some ways Miss Peregrine is a "live action" animation. The characters are larger-than-life, and the film transforms them.
Emma takes off her outsized lead boots and floats into the air. The Twins are minor characters in the book but Burton puts them centre-stage because they are visually so dramatic, with white hoods and costumes hiding their identity. (The actors who play them are actually identical twins though – Burton felt it was necessary to achieve the perfectly synchronised movements he visualised.) In the books, Hugh has prophetic dreams. In a typically Burtonesque twist, in the film he projects his dreams nightly onto a screen, with his eye as the projector, for the other children to watch.
Stay Peculiar
The overriding message of the story is one that fits well into any classroom full of teenagers: be different, don't feel you have to conform to artificial norms, and respect others for their differences. A rich seam that Burton has been mining his entire life. Hopefully he'll keep sharing his quirky visions with the rest of us. They make the world just that little bit better.
Coming Soon: An A2-level article and activities on the film for classroom use.
Miss Peregrine's Home for Peculiar Children
On general release: 5 October
Copyright(s) :
All photos: ©20th Century Fox 2016