The organisers of National Poetry Day in the UK, 28 September, have a treasure trove of poems and teaching activities on their website, including  a free ebook of poems to download. This year's theme is freedom. We've made a selection of those that work best for language teaching, with teaching suggestions.
The Freedom Films page has links to poems by several contemporary poets, and films of the poets reciting their works.
Action
"Freedom Poem" by Michaela Morgan is excellent for getting pupils moving and really living poetry. It's short, simple and all in imperatives. There's lots to act out, like" breathe in", "breathe out", "shout". Pupils can watch the video of the poet reading it to get the idea. From A1+
Comparing Fables
James Carter's "betWeen the Dog & the WoLF (after Aesop)" is a retelling of the fable which pupils will recognise from La Fontaine. That familiarity means pupils could tackle it from A2+.It's an excellent exercise in using existing knowledge to help build comprehension of a text which might otherwise be too difficult.  In lycée, they could do a more detailed comparison, perhaps with the help of their literature teacher.
Reciting
"Poetry and the Dragon" by A F Harrold is quite accessible, particularly the first two stanzas (A2+) and the last one (B1 and up) with its definition of poetry. The film of the poet reading helps work on rhythm and could be used to help pupils practise reciting.
Recitation doesn't have to involve learning an entire poem. Why not ask pupils to learn just a couple of lines? Then they can give a group recitation, which allows them to practise other skills such as listening, and trying to match their delivery to the others'. Learning to recite two lines with care is very different from learning a longer piece, where the memorisation becomes the main task, rather than pronunciation, rhythm or understanding.
Stanzas 3-6 are in effect a list of subjects for poems, so pupils could be asked what the poetry dragon in their heads might see and transform into poetry. And they could have a try at expressing it in poetry. It may help to mimic AF Harrold's rhythm scheme (8 syllables to a line) and rhyme scheme (ABCBDEFE).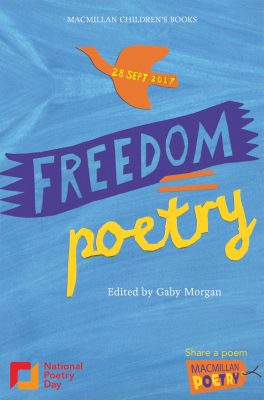 Free Book to Download
There's a free anthology of poems about freedom to download or view online. You just need to sign up to receive the National Poetry Day newsletter. Each contemporary poet who has contributed a poem explains the inspiration for their text, and then chooses a text by another poet to share, so the selection is wonderfully eclectic.
Particularly good for class use would be "17 Caterpillars" by Sally Crabtree, which explores a wonderfully familiar situation – someone getting unreasonably upset about something simple because of a whole set of other, unmentioned problems.
Rachel Rooney's concrete poem "Barrier" has no "barriers" to comprehension since it consists of only two words. But it's an excellent example of how meaning can be conveyed in different ways.
Lady Liberty
There is a section on the website of teaching resources to download. Many are difficult for non-native learners, but this worksheet on Emma Lazarus' poem "The New Colossus" would work well in cycle Terminale. It's the poem which is inscribed on the plaque at the Statue of Liberty. It would work well in a theme on Espaces et échanges, or in LELE, "Voyage, parcours initiatique, exil".
Copyright(s) :
National Poetry Day
Notion(s) culturelle(s) : "Espaces et échanges" "Langages" "LLCER"