Thank you for your wonderful feedback on our first Escape Games pack. You wanted more, and it's coming very soon. Our new pack of three games for A1, A1+ and A2 levels will be available from 4 November.
Immerse your students in an adventure that will get them working in teams, and in English, without even noticing! In the three escape games pupils will hunt for Santa who has been kidnapped in London, try to escape from a locked boarding school and get out of a giant book all about different giants.  We've provided all you need to easily put the games in place and they are full of cultural content.
The Escape Games pack comes with a game each for A1, A1+ and A2. Each game has a set of six different game boards, for six groups, photocopiable games sheets and a teaching guide with full instructions. Pupils can access audio and video clues using the Nathan Live! app on a smartphone or tablet. And all the resources are available in digital format so they can be videoprojected to the class, including a teaser video to set the scene for each challenge. The games are designed to be completed in one class session, and have been tested in class.
Treasure Hunt: Find the Videos
Each game comes with a teaser video to set the scene and get your pupils ready for their challenge. We've hidden the three videos around our site. Your mission, if you choose to accept it: unravel the clues to find the three videos.
A1: Save Christmas!
In this game, Santa has been stolen by the Scrooge from A Christmas Carol. To find the video, who stole Christmas in Dr Seuss's classic book? 
Charles Dickens    The Grinch    The Cat in the Hat
A1+: Get out of school!
It's the end of term at Parkhill Boarding School and the pupils want to go home for the holidays. But the gates are locked: can they find the key? And to find the video, can you spot a famous fictional boarding school where Quidditch is the most popular sport?
A2: Stuck in the Book of Giants
In an old bookshop, you find an enormous book all about different giants. But as you browse the book, it snaps closed. Your pupils will have to use their giant genius to get out.  To find the video, who was the author of the gigantically popular The BFG?
Oscar Wilde   Jacqueline Wilson    Roald Dahl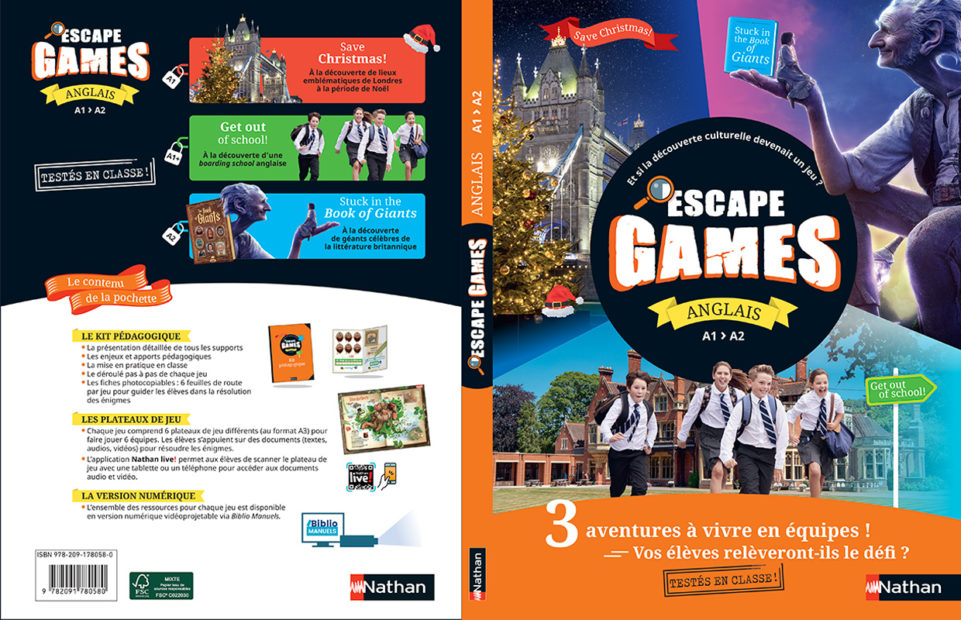 Pochette Escape Games Anglais A1 > A2
59 euros
Available to order now. Find out more.
Your colleagues may be interested in the set of three games for Spanish cycle 4 classes. You can find a video presentation here.
There is also an A2 > B1 set  of three games in German.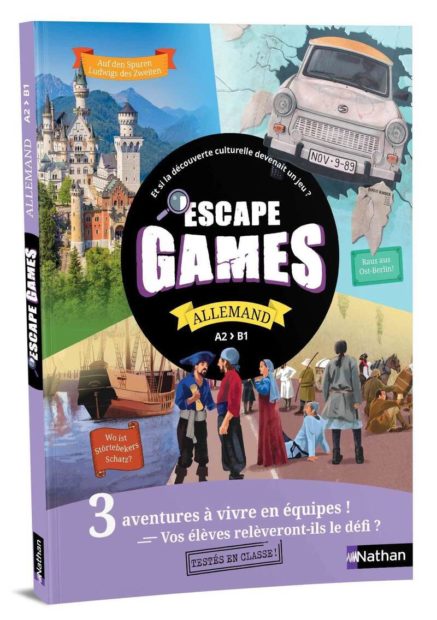 And don't miss our pack of Escape Games in English for Cycle 4.