The strange, gothic Addams family have been a staple of American cultures since cartoonist Charles Addams created them for The New Yorker in 1938. And when you think Gothic, Tim Burton is definitely one of the first filmmakers who comes to mind. He has created a Netflix series, Wednesday, about the daughter in the Addams family, played by Jenna Ortega, and who is starting at Nevermore, boarding school for outcasts.
The Addams Family, created by American cartoonist Charles Addams for The New Yorker in 1938, is a satirical inversion of the ideal American family. The original cartoons gave birth to numerous TV adaptations and feature films. Wednesday was created by writer-producers Alfred Gough and Miles Millar, but it is director Burton's visual universe that honed the characters and jumps off the screen. He describes his young self as a little like Wednesday, feeling outcast and alone and obsessed with the macabre as can be seen in Frankenweenie, Edward Scissorhands or Corpse Bride.
In the series, 16-year-old Wednesday is expelled from her "normie" school (as in normal — think muggles in Harry Potter.) She had decided to take revenge on some boys who bullied her brother by releasing piranhas in the swimming pool.
Her parents Morticia and Gomez  send her to Nevermore, a boarding school for outcasts, which they had both attended. Once there Wednesday cultivates her difference even among the outcasts, claiming to be allergic to colour so she is issued a black-and-white uniform instead of the standard purple.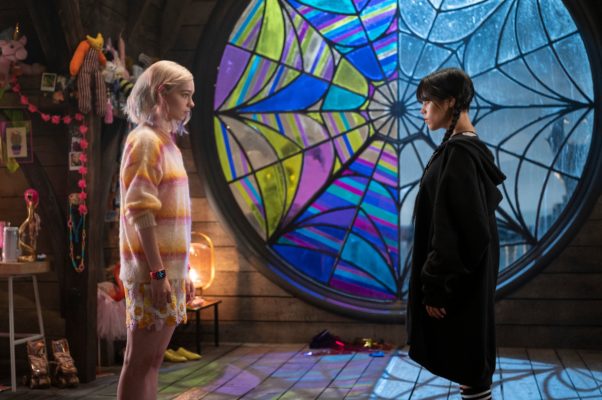 At first she doesn't appear to have any of the outcast attributes of other pupils who are werewolves, vampires, shapeshifters,  sirens who can transform into mermaids or gorgons who can temporarily turn people to stone. But we soon learn she has started having possibly prophetic visions, like her mother.
Nevermore is situated just outside a New England town that features a theme park based on the Pilgrim Fathers that provides employment for local teens.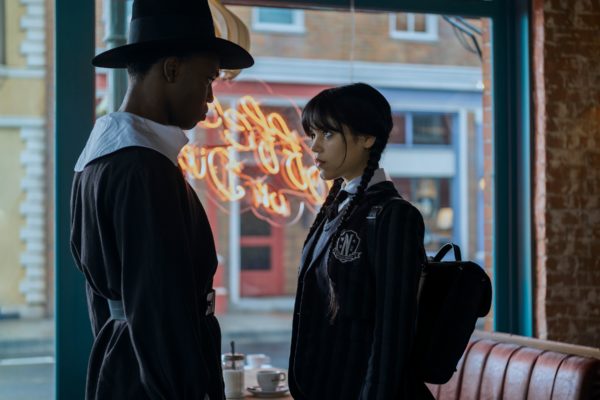 Unlike her roommate Enid, Wednesday isn't exactly filled with school spirit, but her suspicion of the school is soon proved correct as there is a series of attacks by a monster or a serial killer. Wednesday sets out to investigate, but is soon in danger.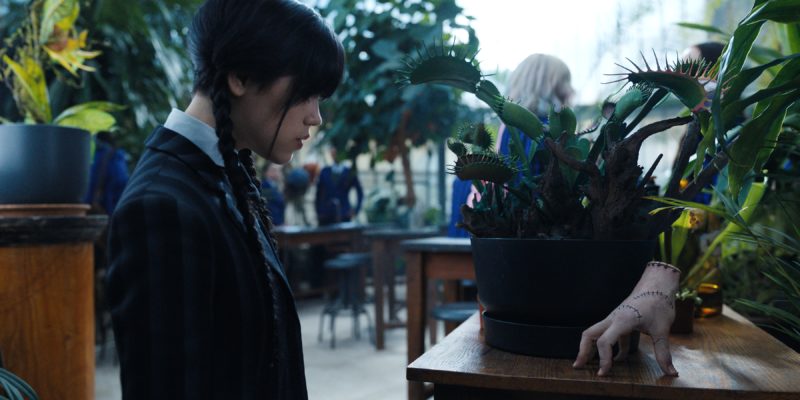 For more on a boarding-school theme, check out our Escape Games cycle 3 pack, game 2: "Get out of school".
Copyright(s) :
Vlad Cioplea/Netflix © 2022