Under the pseudonym Henry Fuseli, Swiss artist Johan Heinrich Füssli, became one of the leading lights of the 19th-century British art world and a popular proponent of Romanticism and the Gothic. His many depictions of Shakespearean scenes, the supernatural, dreams and nightmares are rich food for the imagination. A new exhibition at the Musée Jacquemart André in Paris would be a great outing for classes studying Romanticism and the Gothic. 
Fuseli was born in Zurich in 1741 and followed paternal instructions to study theology. Despite studying theology, his real passions were art and literature. He toured Europe learning to paint. He settled permanently in London in 1780  and in 1782 exhibited the first version of his emblematic work The Nightmare at the Royal Academy (above). Fuseli was fascinated by myths and tales from Greek, Roman and Nordic traditions but the enigmatic Nightmare is an invention all his own. (And shows his love of language with the presence of a horse (a mare?) in the background.)
It chimed perfectly with the Romantic movement with its Gothic atmosphere. Fuseli aspired to attain the sublime in his work, following the philosophy of Edmund Burke.
The new exhibition gives a thematic overview of his famous works and Shakespeare is the opening theme. 
Fuseli was a great admirer of Shakespeare and attempted a translation of Macbeth into German while still a student. He was a keen theatregoer and lived in London in a period when some of the greatest Shakespearean actors were active. Fuseli painted David Garrick, Sarah Siddons and Hannah Pritchard many times. Nine of his paintings were included in the Shakespeare Gallery that opened in London in 1786.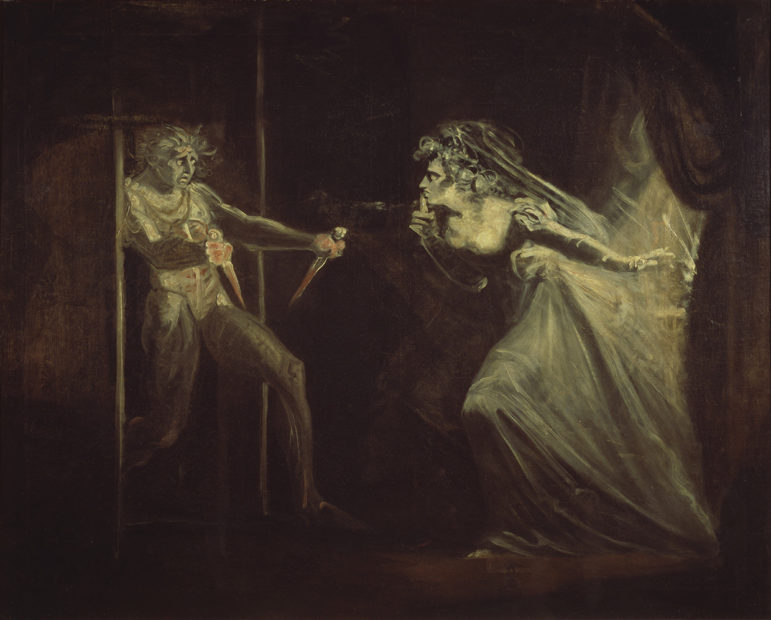 Macbeth was a repeated inspiration for Fuseli, here "Lady Macbeth Seizing the Daggers" from her husband after he has followed her prompting to kill King Duncan. In this version of a painting he revisited several times the actors are believed to be David Garrick and Hannah Pritchard.
The exhibition then moves on to mythological and biblical tales, the female figure, nightmares and their polar opposites, dreams and apparitions. The supernatural is a frequent presence in Fuseli's work. Another of his great literary inspirations was John Milton's Paradise Lost, of which he did almost 50 paintings. . The Shepherd's Dream illustrates a scene in which fairy elves.
"on their mirth and dance
Intent, with jocund music charm his ear;
At once with joy and fear his heart rebounds."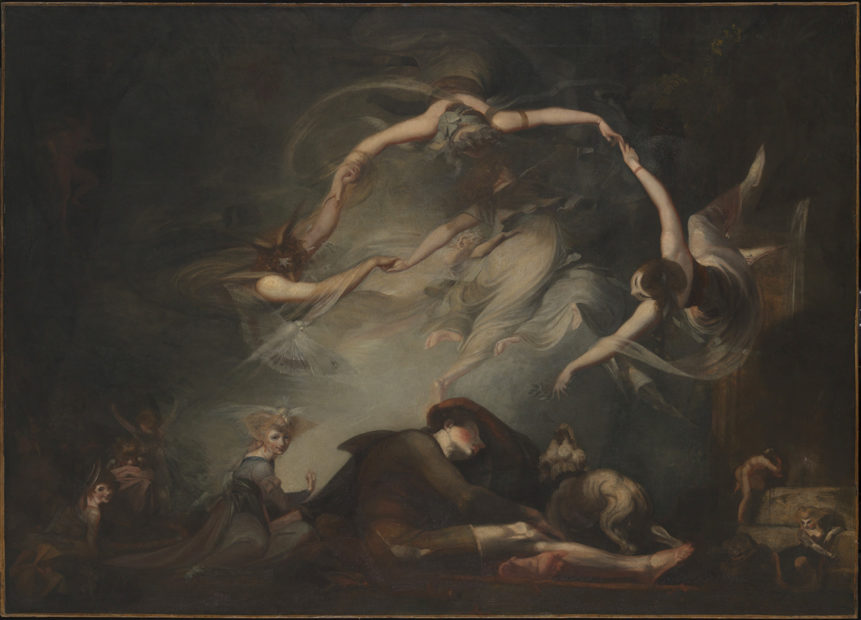 Füssli, entre rêve et fantastique
Musée Jacquemart André
Till 23 January 2023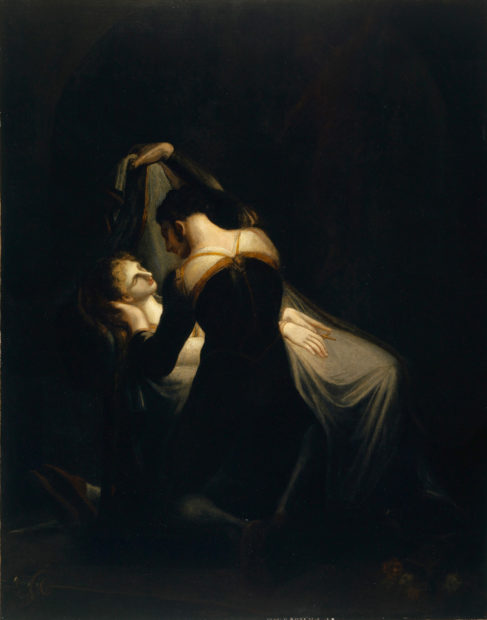 Copyright(s) :
Johann Heinrich Füssli (1741 – 1825)
Le Cauchemar, après 1782, huile sur toile, 31,5 × 23 cm, The Frances Lehman Loeb, Art Center, Vassar College, Poughkeepsie, New York, photo : Frances Lehman Loeb Art Center, Vassar, Poughkeepsie, NY / Art Resource, NY
Lady Macbeth saisissant les poignards, 1812, Huile sur toile, 101,6 x 127 cm, Tate Britain, Londres; photo: Tate
Le songe du berger, 1793, huile sur toile, 154,3 x 215, 3 cm, Tate Britain, Londres, photo : Tate
Roméo et Juliette, 1809, huile sur toile, 143 x 112 cm, collection particulière (en dépôt au Kunstmuseum à Bâle), photo : Kunstmuseum Basel, Martin P. Bühler