We received thousands of fabulous entries to our Vivian Maier creative writing contest. Here are our favourite texts entered as A2 and those who chose the 100-word limit. 
And the winners are, in no particular order:
Iris from Mme Navarro's class, Collège Jean Jaurès, Castanet-Tolosan;
Romain S from Miss Vérot's class, Collège Henri Scognamiglio, Morcenx;
Toriah from Ms Peterschmitt's class, Collège Saint Martial, Montmorillon;
Ambre and Alicia from Ms Lion's class, Lycée Lino Ventura, Ozoir-la-Ferrière;
Orlane, Diaby, Suresh and Anaïs from Ms Combs' class, Collège Montesquieu, Orléans;
Ms Bazillac's classes at Collège Daniel Mayer in Paris.
Scroll down to discover their amazing texts!
Iris from Mme Navarro's class, Collège Jean Jaurès, Castanet-Tolosan
(Photo above.)
What is in the mirror? It's me. I'm locked in the mirror. I wanted to be a strong woman. I didn't choose my life. I'm the mother of three. I'm the wife of the best shoemaker in the city. The other women would be happy in my place. But I'm not. I want to change. Me and my life. Tomorrow I will leave, I will be free. Maybe, one day I will come back. Maybe. I can change my life. Tomorrow I'll change my life. I don't want to be a spectator of my life. I can get out of this mirror.
We loved both these texts imagining what this poodle is doing by the phone box!
Romain S from Miss Vérot's class, Collège Henri Scognamiglio, Morcenx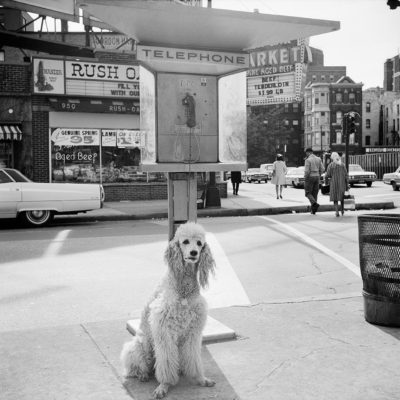 It is Friday morning in Chicago City, I am Roxy and I am waiting patiently on the pavement for my master who is buying bread at a bakery for lunch. Today is a special day, I feel extremely happy because I'm not tied on the telephone box as usual. I'm also stressed because I want to succeed the test from my master. The test is very hard:  staying in front of the bakery and waiting for my master silently to have a biscuit and win his confidence. He is coming back, I'm so happy, I'm going home!
Erwan and Paul from Mrs Muller's class, Collège Léon-Marie Fournet, Jassans-Riottier
This dog was a very special secret agent , he was in charge of the U.S.A (ultra secret agents) section where he commanded the best agents of the Earth. One day, he walked down the street and stopped in front of a grocer and saw an unknown fruit that the seller called "fruit of the devil". He left the produce seller and remembered that he had to give a mission to his best agent "Amon". So he went to the nearest public telephone, he called her and gave her the orders. After a few minutes of discussion, he decided to taste the fruit, and immediately after taking a first bite, he turned into a dog and he could never finish his call with Amon.
This is one of two texts inspired by the same photo (see "The Debt" below).
Toriah from Ms Peterschmitt's class, collège Saint Martial, Montmorillon.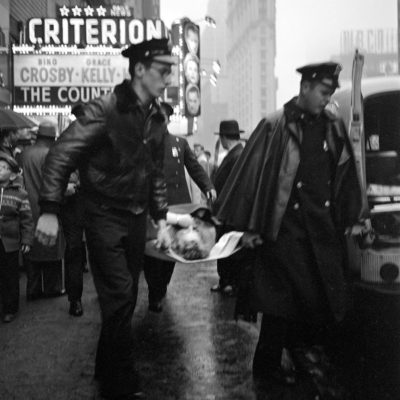 This event is happening in front of the Criterion cinema. There has just been an attack in the cinema. Everyone was paying attention to the film when suddenly, whispers started to get louder. People started to look scared. I was starting to panic. I didn't know what was going on. Then, out of the blue, a man jumps up on a seat and start to fire gunshots. The screams are outstandingly loud, they nearly blew my ears off.
This man was so scary he was shooting everyone. Then he starts shooting at me. Yes, me! And this beautiful young man leaps in front of me, and saves my life!
I said, "Whatever could I do to repay you?"
And he replied, "Just staying alive will be fine."
Suddenly, the police came in and arrested thi guy. Before the beautiful young man left, I said, "Thank you so much," and he said, "No, thank you. I've always wanted to be helpful in my life and now I've done that, so thank you." And those were his dying words. This young man saved my life and I will always be thankful. Every now and again I still hear the screams of the event, but then I think back on this young man and everything goes away.
Ambre and Alicia from Ms Lion's class, Lycée Lino Ventura, Ozoir-la-Ferrière
They chose a photo titled Onboard, 1959, which shows a paper and keys on a bed.
The Letter
The day a cleaning woman entered in the room and found the bloody corpse, she panicked and called the police.
They arrived and questioned her and she said that she didn't know anything, she was just here to clean up but she noticed that the dead man William Smith didn't have a lot of friends and that he was very lonely.
So the crime squad took care of the murder, then the police returned to the bedroom and searched the place to find clues but they discovered that William's death was not a murder but a suicide…
Ms Combs' class, Collège Montesquieu, Orléans
We just couldn't choose between these two very different stories.
Orlane managed to show a lot of imagination about one of the least detailed photos available: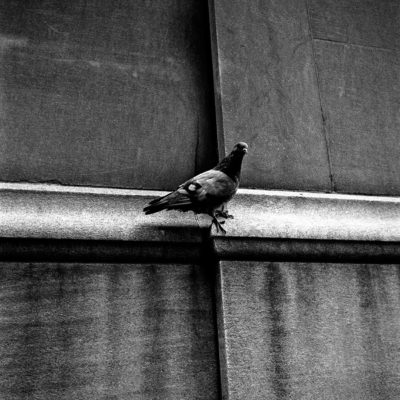 Pigeon's Story
Once up on a time, there was a pigeon named Carl. He had to sort things out alone because his mother died during a hunt and his father abandoned him because he didn't want to have a kid to manage. Then one day, Carl met a group of pigeons. He wanted make new friends but the other pigeons insulted and rejected him. Carl abandoned the idea and left crying. The next day, he got a hold of himself and he worked very hard to become beautiful. All the girls were impressed and to avenge himself, he went back to see the pigeons and they begged him to join their group.
Carl refused and left, dignified.
 Diaby, Suresh and Anaïs 
We liked the little detail of the date in this one! The photo is the same as for Toriah's story above.
The Debt
A guy named Jack Anderson killed himself Friday the 13th of November
1956 and we don't know the cause of this act. The only thing that we know is that he is single and was 21 without any job. The police are trying to clear up this mystery
4 months before
Jack Anderson was a 21-year-old man. He had a wife and 3 children. He lived a great life with a great job and had nothing to complain about. Well, there was one thing. His father passed away a year before and left behind a big debt. Being his only son, Jack had to pay for his father. Unfortunately, Jack was fired and lost his job. Not finding another, his wife left him and took the kids with her leaving him alone with a debt and without a job. This is where his life messed up. Jack searched and searched for a job but it led to nothing. One month passed and Jack still hadn't found anything. He received a lot of threats from the people his father owed money to. It started with some unknown calls then with an unsigned death letter. One day, when Jack was at home in his room staring at the wall, he suddenly heard the sound of broken glass and decided to follow the strange noises. But the only thing that he saw was some glass on the floor with a brick wrapped in paper on which was written ''If you don't pay your debt you will pay the consequences. Wasn't the name of your daughter Emily?''
Ms Bazillac's classes at Collège Daniel Mayer in Paris
A special mention for a work in a category all its own: a great collective creation . It includes 4 haikus, 4 odes and 4 sonnets all presented on a police evidence board. We include the whole work so you can get the full effect.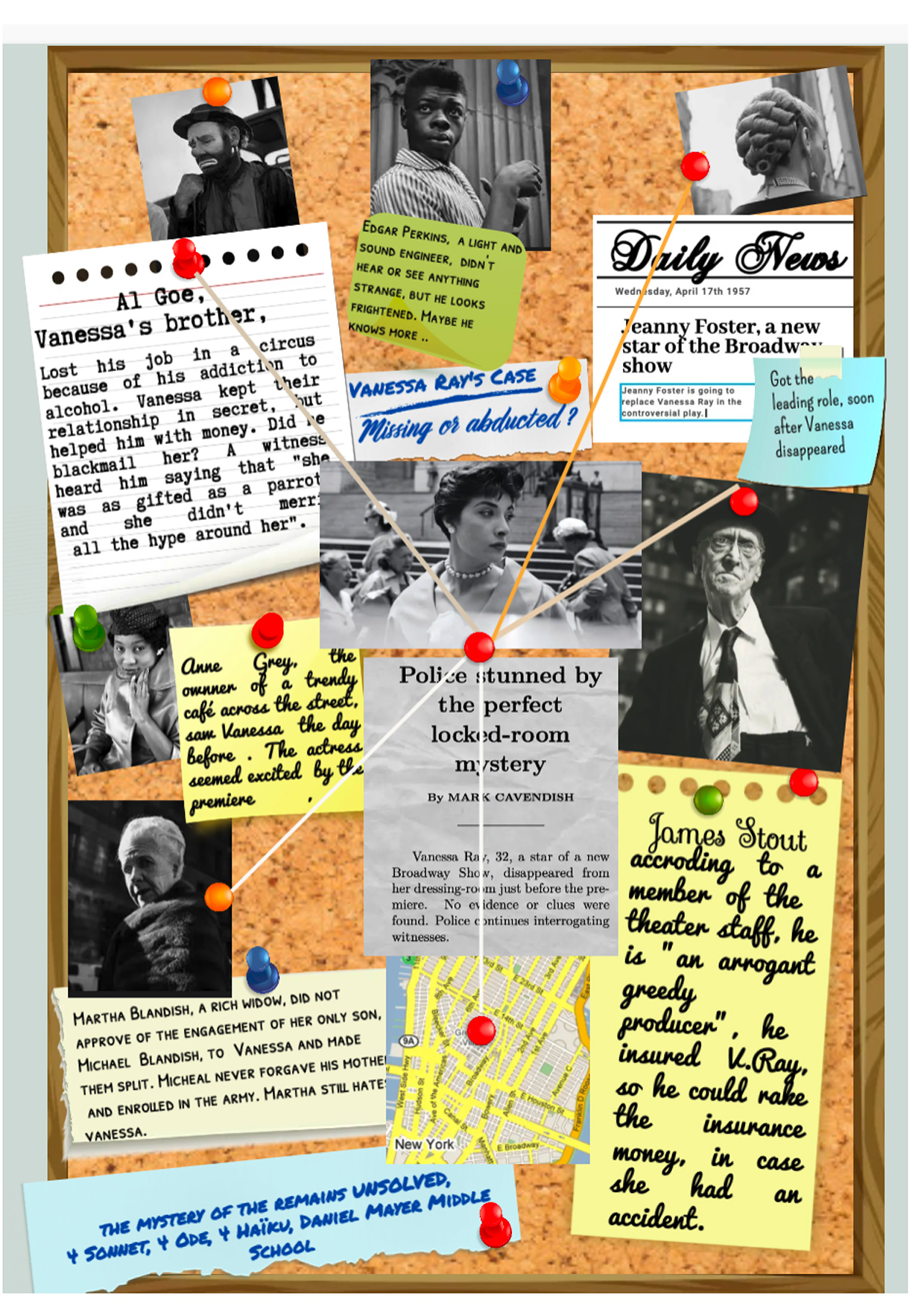 Copyright(s) :
All images:
© Estate of Vivian Maier, Courtesy of Maloof Collection and Howard Greenberg Gallery, NY