A new biopic of Billie Holiday alleges the blues singer was persecuted by the Federal Bureau of Narcotics over her support for the civil rights movement and her insistence on singing the powerful anti-lynching anthem "Strange Fruit." Jazz singer Andra Day won a Best Actress Golden Globe for her portrayal of Holiday.
The United States vs Billie Holiday was directed by Lee Daniels (Precious, The Butler) and based on the book Chasing the Scream by Johann Hari.
The film takes place in the last ten years of the singer's short life. (She died at age 44 in 1959.) The singer had been a star since the mid-1930s, and had long had a heroin addiction. But when she started singing Abel Meeropol's song "Strange Fruit" in 1939, she started getting regular warnings from the Federal Narcotics Bureau. They made it clear that they weren't happy with her singing the poignant protest song that described the lynchings of African Americans by Whites.
The subtext was that if she persisted in singing the song – and she did – at some point she would be arrested for drugs possession to silence her. The FBN is known to have targeted black jazz musicians in particular, while turning a blind eye to white stars with drugs problems like Judy Garland.
In 1947, the threat was carried out and Holiday was sentenced to a year and a day in prison. Her fans filled Carnegie Hall for a concert on her release, but she never really recovered. When she cirrhosis of the liver in 1959, she was under arrest again by the Feds in her hospital bed.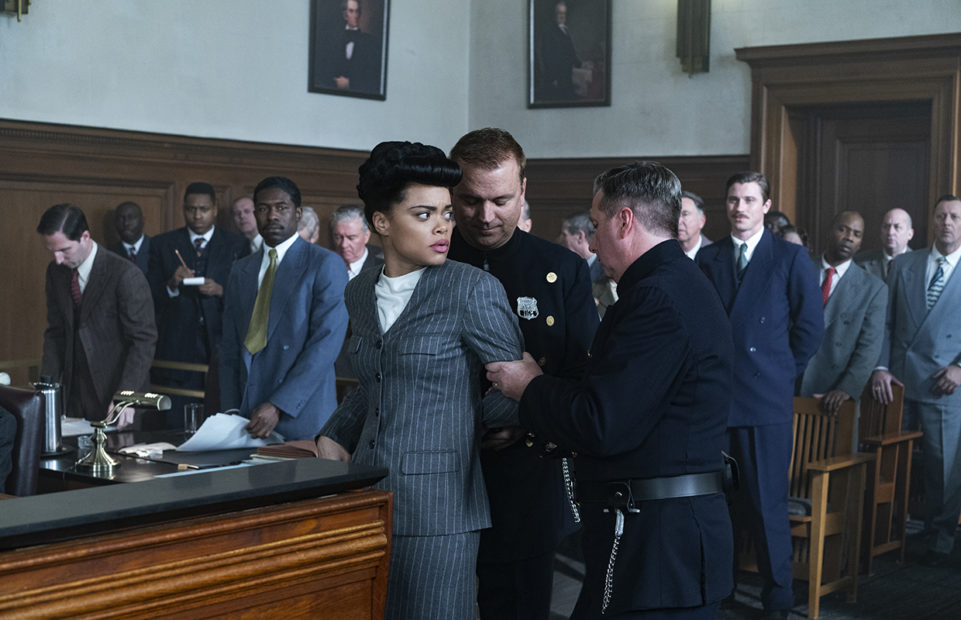 Daniels' film embroiders some of the truth: a love affair with a black FBN agent, Jimmy Fletcher, recruited to infiltrate the jazz scene is based on an intuition of author Johann Hari's. Fletcher was an agent, and later in life said he regretted his role in Holiday's arrest, but there is no proof of the affair. But Andra Day's singing has been universally praised and the film will hopefully bring a new generation to Holiday's songs.
Aretha
Meantime, another biopic of a jazz diva, Aretha Franklin, title RESPECT, is scheduled for release in August.
The United States vs Billie Holiday on general release 2 June
Copyright(s) :
Paramount Pictures. Photo Credit: Takashi Seida.