Cultural projects based around a trip or an exchange with an English-speaking country have been curtailed by the pandemic. But necessity is the mother of invention, so two teachers in Toulouse decided to open their students' horizons through studying musical films (Singin' in the Rain, West Side Story and La La Land) thanks to their local cinemathèque.
Working on musicals from the 1950s to today with 4e euro classes? Well… Why not after all?! Catching fourteen-year-olds' attention when dealing with musicals from the 1950s may sound like a challenge but this is the very idea!
In fact, it all started when we – a colleague and myself – realised that we wouldn't be able to go to England this year with our 4e euro pupils because of the COVID situation. What could we do to spice up our lessons and somehow make up for this disappointment of not having an exchange with British students?
What about taking them to the theatre? To the cinema? My colleague came up with an idea after having a look at the cinémathèque's programme: musicals!
We're lucky the cinémathèque in Toulouse offers to show Singin' in the Rain (1952), West Side Story (1961) and La La Land (2016) on demand to students. What with Spielberg's remake West Side Story released in December and the cinémathèque's programme, we were ready to launch head first into the project. What's more, some of our students are involved in the drama club and their teacher was enthusiastic and willing to help if needs be.
U.S. History Through Movies
Our main objectives with this project are to allow our pupils to discover the world of musicals and understand how "U.S. history is seen through the lens of Hollywood movies".
 Though we know our students won't be able to understand everything, we are eager to give them an inkling of 1950s America and topics such as immigration and how Hollywood rendered them on screen. We are more focused on speaking and writing skills (defending a viewpoint in small groups / debating, writing reviews) than listening skills (even though understanding the general meaning of the scenes is a prerequisite or debating and writing reviews).
Keeping that in mind, we planned to work on vocabulary related to the cinema and the movie industry as well as everything revolving round feelings, immigration and opinions.
You can find a worksheet here we prepared to introduce fillmaking vocabulary to our students.
As for linguistic objectives our main goals  are to work on making hypotheses (modals) from screenshots in order to anticipate; describing people and scenes; expressing and justifying one's opinion.
We assumed it would roughly take 10 lessons as some lessons will be dedicated to watching the musicals (which is rather time-consuming!) and / or typing reviews on the padlet.
We decided it would be easier for 4e euro students to start with a general overview of the cinema industry / Hollywood before working on Singin', then West Side Story and La La Land. If the students prove enthusiastic about the theme, we'll watch Spielberg's West Side Story (2021) for pleasure: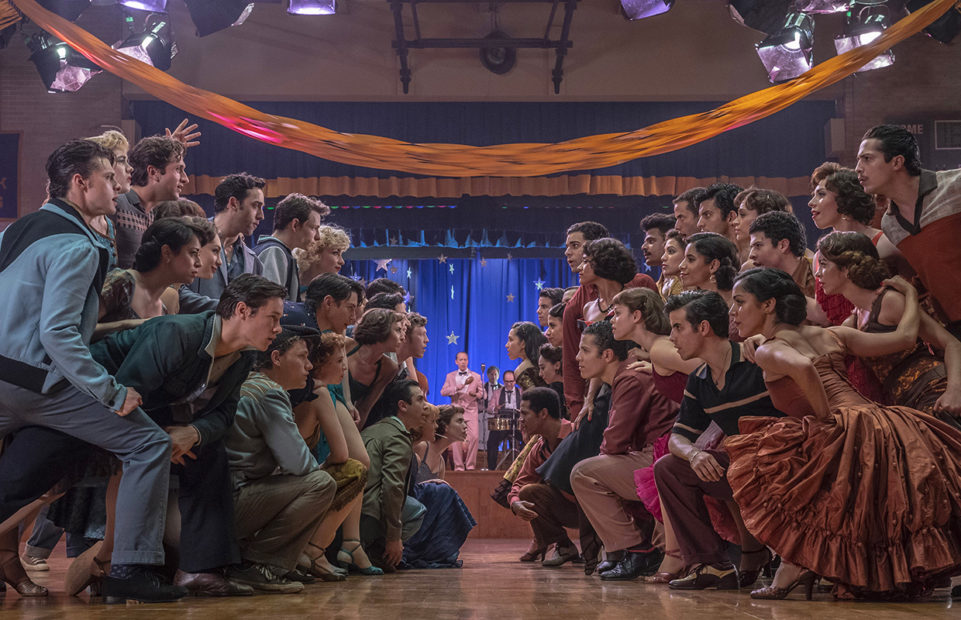 Our first step was a brainstorming activity on Hollywood and what they already know to before introducing the subject of musicals. Afterwards, we had students study each movie – anticipating thanks to screenshots, doing matching activities and focusing on the main topics.
Even though we guess our students have never seen Singin' in the Rain or West Side Story, we think – and hope! – they have heard a song or seen an extract / a photo from these movies.
Our main goal is to have students get more familiarized with the world of movies and give them the opportunity to express their reactions and opinions concerning the movies they watch.
As each of us is in charge of a 4e euro group, we decided to have a common Padlet (virtual wall) so the pupils from each group could read their friends' productions and react in turn. They'll mainly write about their favourite passage / character and whether they like the musical or not and why.
To make it easier for them, we decided to use the same templates / steps in the activities to anticipate and study the 3 musicals. This will also enable us to compare them and lead them to write reviews.
We'll be back soon with an update on how our project is actually going.
Auteur(s) :
Odette Toneatti and Clémentine Burnier teach at Collège-Lycée Le Caousou, Toulouse. Odette Toneatti is one of the authors of the Shine Bright collection.
Copyright(s) :
SND/Lionsgate
Niko Tavernise/20th Century Studios

Downloadable resources ready to use in class
>
Staging Emotions: West Side Story